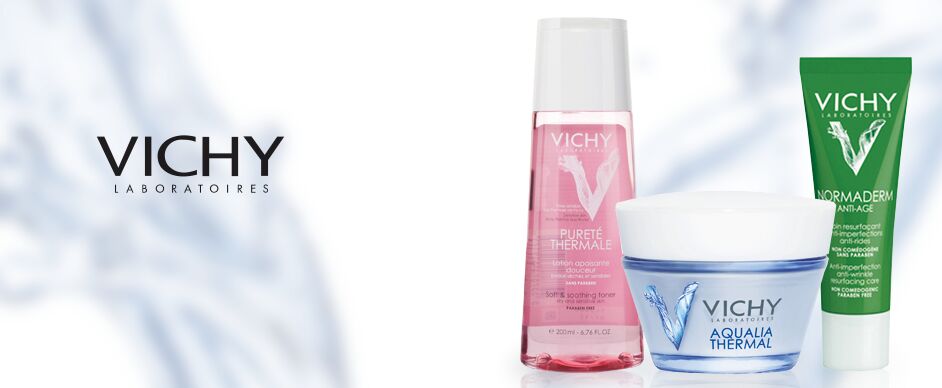 Discover healthy looking, beautiful skin.
At Vichy, we believe that protecting skin health is at the heart of a beauty more true, more visible and more sustainable. Since our foundation by Dr. Haller in 1931, the Vichy Laboratories have applied the principles of medical science to skincare with a view to improving the quality of the skin's appearance and the quality of life that comes with it.We make our knowledge accessible to you in-store, online, over the phone and at our skin health centres. These public education centres are run in partnership with pharmacists and dermatologists to offer you free access to professional skin check-up as well as health tips for your skin. We conduct extensive research to ensure that each product achieves optimised efficacy result and excellent tolerance. In order to do so, each product is manufactured according to the strict principles stemming from the pharmaceutical industry tested under medical supervision. The efficacy of each product is proven by independent dermatologists on sensitive skin.
About skin
Your skin is unique. One of 7,000 different types, in fact. So how do you know which type of skin you have? 50% of people mis-diagnose their skin, choose the wrong products and are disappointed with the results.
Our commitment to your skin
Efficacy of dermatological ingredients tested on 5,000 people in clinical studies every year
Worldwide Skin Health Centres diagnose and understand the skin health needs of 40,000 women every year
Textures with sensorial qualities that are pleasant to use without compromising the product efficacy
Our commitment to you
A free personalised skin consultation to identify your skin's changing needs (its sensitivity level, oil content balance hydration or sun resistance levels and skin-ageing profile)
Worldwide Skin Health Centres diagnose and understand the skin health needs of 40,000 women every year
Expert guidance to help you build up a tailored skin-health regime
Free Skin Consultation
For your free skin consultation please contact us at 0845 259 0175 or take your skin consultation online with our Vichy Consultants. If you prefer to see one of our consultants in person, please come see us at
206-208 Causeway Green Road Oldbury, West Midlands B68 8LS