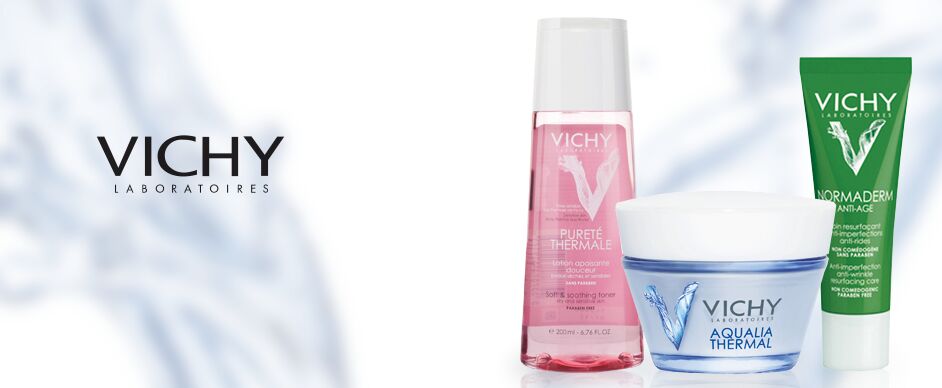 Our skin goes through a lot every single day, so we need to look after it if we want it to remain fresh, youthful and healthy. There are a few things you can do to ensure your skin is properly cared for and keeping your daily skin care routine simple is essential. Cleansing, toning and moisturising daily are the best ways to keep your skin in excellent condition, thanks to a little help from Vichy!
Cleanse:
Cleansing is the ideal base of your skin care routine as it cleanes the skin before toning and moisturising. Throughout the day, dirt, oil, impurities and make-up build-up on the skin and clog the pores. This will leave your skin prone to breakouts, shine and dullness. Cleansing is essential for removing dead skin cells and everything that has accumulated on the skin in order to leave it fresh and clear. Vichy cleansers ensure that your face is gently yet effectively cleansed and refreshed with different products to suit different skin types.
Tone:
With your skin feeling refreshed and clean, toning is the next step in your regimen. Vichy astringents work by tightening the pores, soothing the skin and removing oil. Simply dab on a cotton pad and sweep across the face to leave your skin feeling comfortable and soothed. With pores tightened, your skin texture will feel refined and your complexion will look mattified. They help to balance the skin after cleansing and prepare the skin for the third and final skin care stage.
Moisturise:
Moisturising is the final stage that will complete your daily skin care routine. Vichy moisturisers and hydrators provide the skin with long-lasting intense moisture and their infusion of thermal spring water leave the skin feeling soft, smooth and comfortable. Moisturisers are specially designed to nourish and protect the skin, preventing it from drying out and keeping it beautifully radiant. Make sure you pick the right product for your skin type, so that sensitive skin is free from irritations, oily skin is free from shine and dry skin is kept hydrated. Why not try Vichy's tinted moisturisers infused with fruit acids and vitamins that will leave your skin with a flawless complexion.