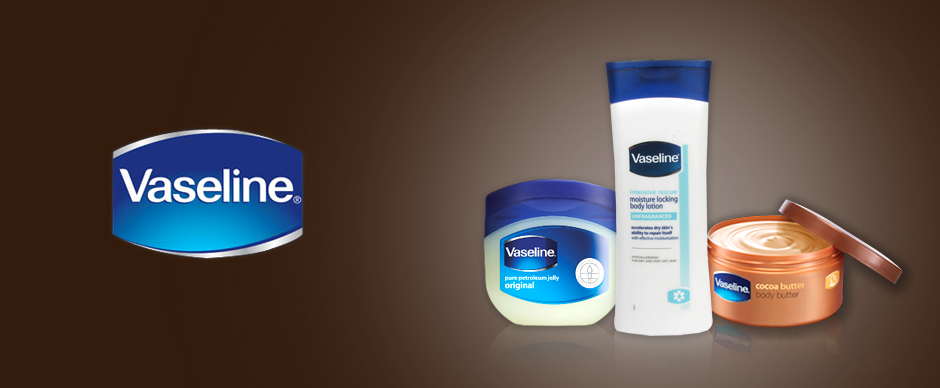 The power of petroleum jelly
Vaseline is best known for is iconic petroleum jelly that launched with the company in 1859 when the inventor of the product stated: ?I, Robert Chesebrough, have invented a new and useful product from petroleum which I have named Vaseline.? It became so popular that just 10 years after its launch, a jar of Vaseline petroleum jelly became an American household essential.
Essentially, petroleum jelly is a fat that is a purified mixture of semi-solid hydrocarbons derived from petroleum. As an oil-based emollient, it quickly became a multi-purpose product that is best known for protecting dry skin. It has the ability to replace lipids and by filling in the gaps between our skin cells in order to leave your skin feeling hydrated, nourished and supple. Vaseline's wondrous little tub of petroleum jelly is a bathroom cabinet essential as it holds many uses for your body top to toe!
Hands & feet:
Our hands and feet go through a lot throughout the day and most of the time we don't even think about what we put them through. Our hands are one of the only parts of the body that are constantly exposed to the harsh weather. Not only that but washing our hands only dries them out even further. Our feet are also prone to dryness after carrying our weight all day long and they do tend to get neglected. Petroleum jelly as an oil-based treatment stays on the surface of the skin longer than water-based lotions in order to promote long-lasting moisture and healing.
All over the body:
Petroleum jelly can also be used over the entire body, wherever you find dryness. Wherever skin has become dry, chapped and itchy, the protective barrier can become weak. Thankfully Vaseline's petroleum jelly can be used daily to heal dry skin, seal moisture in and protect the skin from further damage. Pure petroleum products like Vaseline are hypoallergenic, non-comedogenic and non-irritating with no colours or fragrances to ensure that it will soothe and calm the skin. For the best results, apply Vaseline petroleum jelly daily after showering when skin is still damp, in order to enhance moisture absorption.
Face:
The skin on our face is much more delicate and sensitive than anywhere else on the body and it is another part of the body that is constantly battling the harsh external elements. It is also the first place where we start noticing the visible signs of ageing, which can include skin dryness. Petroleum jelly can be used on the face to relieve dry, flaky skin and can also help to reduce fine lines and wrinkles on mature skin. Be careful however, as petroleum jelly should not be used on the face if you have normal or oily skin.
The skin on our lips is even more delicate and needs special care also. Our lips can easily dry out in the cold months, becoming chapped and flaky. This is why Vaseline's Lip Therapy products have been introduced with petroleum jelly and other ingredients that keep your lips nourished and hydrated all year round.