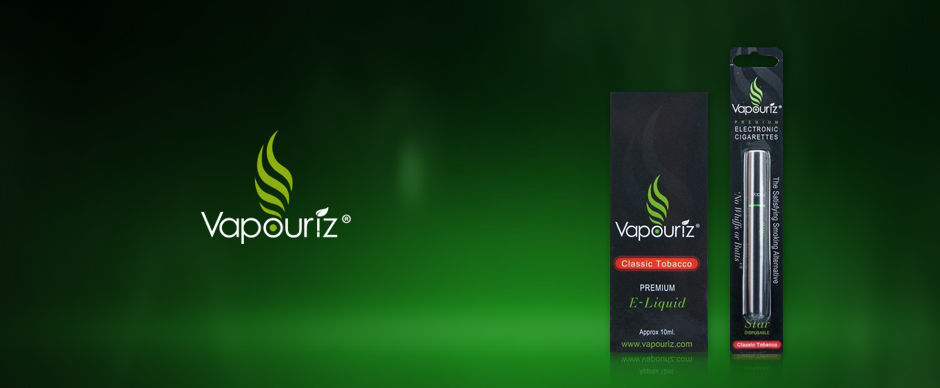 Electronic Cigarette Starter Kits
Vapouriz Electronic Cigarettes are available in a variety of options so that there's something to suit everyone, no matter what your taste and needs.
If your are new to E-cigs, then we would recommend that you try the Vapouriz Solo Disposable Electronic Cigarette.† It's available in two flavours (Classic Tobacco or Mentol Fresh) and represents an affordable way of finding out if Vapouriz is right for you.
E Liquid
Vapouriz have a huge range of e juice flavours for use with your Tank Kit or your vapourizer. There are a†comprehensive range of flavours - in fact, you're spoilt for choice! †Each of these e liquids (also known as 'juices', or 'liquids') are available in a choice of strengths (nicotine content) - From 2.4% for heavy smokers down to 0.6% for the light smoker who may be trying to quit nicotine completely. All of the e liquids can be mixed and matched: You can combine 2 or more flavours of e liquid to come up with a custom taste for you. Breaking the habit? Keep it fresh and fruity, cool and minty or stick with traditional tobacco flavours.
Accessories
If you're a user of Vapourizers then check out the selection of replacement heads, clearomizers & tanks. Vapouriz cater for Gemini Nanos, Vivi, EVO, Boge 510, CE4 and CE4 V3 and have everything you need to maintain & keep your vaporiser in tip top condition.