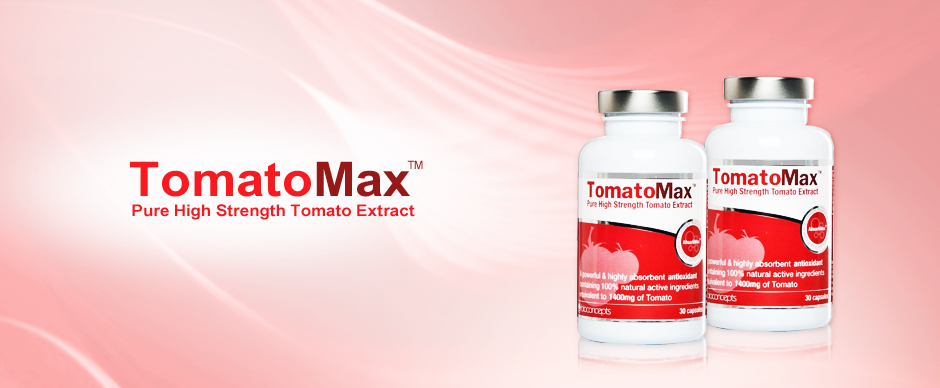 What is TomatoMax™?
Packed full of phyto-nutrients TomatoMax™ is a powerful, all-natural antioxidant beneficial to heart health. The formulation is made from non-GMO tomatoes that have been specifically selected for their high levels of Lycopene which is well documented for its cardiovascular system health benefits and has also been seen to be beneficial for sufferers of exercise induced asthma, preeclampsia, prostate cancer and sunburn.
What does TomatoMax™ do?
Helps to maintain a healthy heart
Helps to maintain a healthy cardiovascular system
Helps keep the arteries healthy
Helps to maintain a normal blood flow
Protects cells from damaging effects of free radicals
Helps to prevent the oxidation of cholesterol
What does TomatoMax™ contain?
TomatoMax™ is a powerful & highly absorbent antioxidant containing 100% natural active ingredients equivalent to 1400mg of Tomatoes & 17mg of lycopene. That's twice the strength of Competitors!
Are there any undesired effects or precautions whilst taking TomatoMax™ ?
TomatoMax™ tablets have no known side-effects when taken as directed. Do not exceed the recommended intake.
Consult your doctor before use if taking prescribed medication(s).
If you are allergic to any of the ingredients, do not take
TomatoMax™ is not recommended during pregnancy or breastfeeding.
In case of overdose, seek medical advice immediately.
When do I take TomatoMax™ ?
For best results follow the recommended dosage in the instruction table on the enclosed leaflet.
How many tablets should I take?
For best results, follow the recommended dosage on the enclosed leaflet.
Can I take TomatoMax™ alongside medication or if I have an existing medical complaint?
It is recommended you consult your healthcare professional before taking TomatoMax™
How to take TomatoMax™?
Take 1-3 capsules daily with food