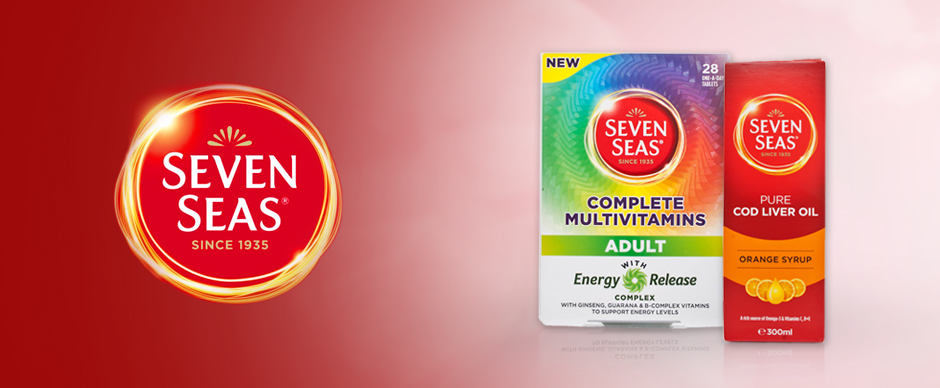 Seven Seas provides you with a range of health supplements to meet your health challenges as you get older. You may not be able to throw off the process of ageing completely, but there are some ways that you can ensure you remain happy and healthy no matter what your age. As your body get older, your nutritional needs will change and it is important that you stay aware of the vitamins and minerals your body needs to help it function at its best.
Although your energy requirements might lessen with age, you still try to make physical activity and taking proper nutrients a daily goal. Eating a healthy diet and staying active by having gentle exercise, going for a walk, doing gardening or housework will help you to enjoy life to the full.
Important vitamins
Take a look at these vitamins and minerals that you will need to care for your body as it changes and grows more mature.
Vitamin A: Vitamin A, also referred to as the anti-infective vitamin, is essential to help you maintain a good vision. It is important for you because it will help avoid any vitamin A deficiencies as you get older. The best food sources of this vitamin are eggs, milk, cod liver oil, spinach, broccoli, sweet potatoes, and carrots.
Vitamin B: Vitamin B12 helps improve memory and supports the normal function of the nervous system. A lack of B12 can cause neurological symptoms like deterioration of mental function, loss of physical coordination, and changes in personality that are not reversible. As you get older, your need for vitamin B12 increases. The daily allowance for it is 2.4 mcg. The best food sources of this vitamin are breakfast cereal, salmon, clams, beef, chicken, and dairy products.
Vitamin C: Vitamin C is an antioxidant that plays an important role in neutralising free radicals that destroy healthy cells. Vitamin C is also said to help prevent the onset of heart disease, cancer, and even slows the signs of ageing. It is also used for the production of protein collagen which is essential for healthy connective tissues and bones. The best food sources of this vitamin are Brussels sprouts, asparagus, cabbage, potatoes, strawberries, tomatoes, citrus fruits, pineapple, and watermelon.
Vitamin D: Vitamin D is another important vitamin as you get older as it helps with the absorption of calcium and helps prevent weakened muscles and bones. The best food sources of this vitamin are cod liver oil, salmon, sardines, dairy products like cheese and milk, egg yolk, and fortified breakfast cereals. Zinc: Zinc helps heal wounds and is important for the proper function of the immune system. Zinc deficiency will hinder the healing process and negatively affect the ability of the immune system to fight infections. The best food sources of zinc are milk, cheese, fish, meat, eggs, and whole grain cereals and pulses.