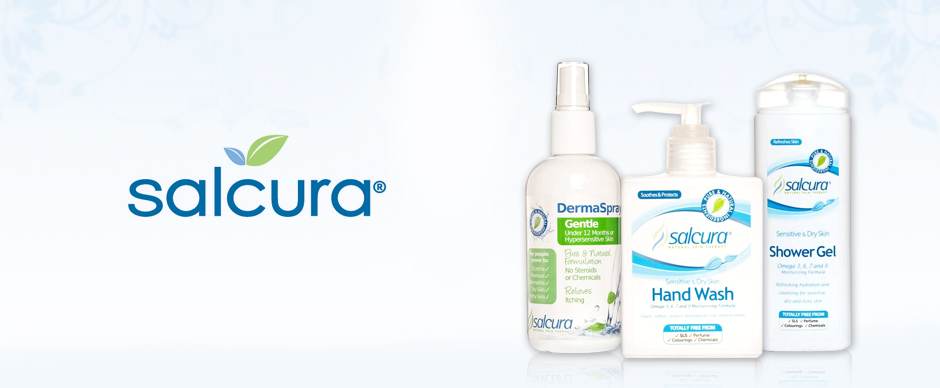 Improve your skin quality with Salcura
Having a hard time keeping your face bright and free of blemishes? Is your skin gentle and sensitive to the chemicals found in most skincare products on display? There are times when problems like eczema, psoriasis, acne, and rosacea make it difficult to enjoy blemish free skin. If you've been struggling with such problems and are just not sure which skin care product will work best for you try out our range of Salcura products.
Salcura will help improve your skin whatever the problem.
The Salcura range of skincare has specially developed products that are designed to help you deal with skin problems ranging from acne to extreme eczema. Salcura was first started in 1990 by a German bio-scientist named Dr. Martin Schiele to help treat the difficult skin conditions that factory workers often faced due to exposure to strong chemicals.
Today, our skin is exposed to a host of germs and bacteria that float through the air and are passed from person to person. Because our skin is the largest organ of the human body it needs extra care to protect it from bacteria, pollution, and harmful rays from the sun. Salcura has provided a way for us to give our skin the gentle care it needs.
Salcura products include gentle sprays, rich shampoos, bath oil, hydrators, and moisturisers. These have proven effective in maintaining delicate skin that needs extra care. It also can be used to help care for skin conditions like acne, psoriasis, rosacea, and eczema.
Benefits of Salcura:
In order to protect your skin from irritation, all Salcura products are made using only naturally active ingredients.
Carefully chosen ingredients like sea buckthorn, manuka, sandalwood, and tea tree promote better health for skin problems.
Salcura is completely free of peroxides, steroids, synthetic fragrances, SLS, lanolin, paraffin, cortisone, phthalates, and parabens.
All products are suitable for vegetarian individuals.
These products respect the wellbeing of animals and have not been animal tested.
No Salcura product is genetically modified.