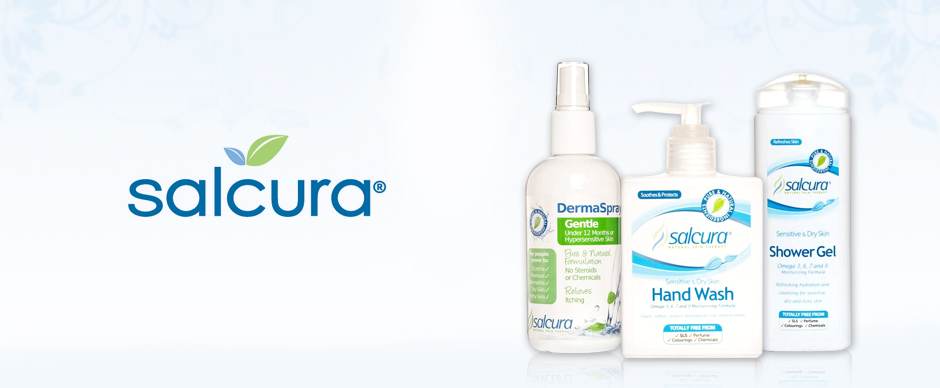 Clearing psoriasis with Salcura
Having problems with psoriasis?
Psoriasis can be a troublesome condition that may lead to embarrassment during social functions due to the build-up of scaly reddened patches. It can be difficult to find a treatment that actually improves conditions of psoriasis and most have to suffer in silence with the uncomfortable, itchy feelings along with self-consciousness throughout their day. It may also be difficult to enjoy a good night's sleep with the itching discomfort.
It can be difficult to find a treatment for psoriasis because of time-consuming treatments, worry about unpleasant side effects, concern about topical steroids contained in most treatments, and additional skin irritation. Most traditional psoriasis treatments tend to have strong smells and are greasy leading to stained clothing and bedding.
Try a new solution!
If you or a family member suffers with psoriasis, be encouraged. Salcura has a line of skincare products that can help to soothe and calm your skin. These products are so mild and gentle that they are safe to use for adults, children, and even babies.
Most individuals with psoriasis prefer to use a natural product because of concern about topical steroids or chemicals that thin the skin. The good news about Salcura products is that they are made from natural ingredients like sea buckthorn, calendula flowers, lavender, rosemary, aloe vera, tea tree, manuka, and eucalyptus. These natural, plant-based ingredients are clinically proven to help deal with the infection inflammation, and tissue damage that psoriasis causes.
Use Salcura for psoriasis because it…
Every product is natural and plant based.
It contains no artificial chemicals, steroids, or other pharmaceutical preparations.
Is safe enough for the gentle skin of children and babies.
Can be used by pregnant and breastfeeding women.
Penetrates the skin quickly and gives immediate relief from itching and burning.
Treats flare-ups or bouts of guttate psoriasis.
Is an effective moisturiser.
Is easy to apply and do not leave any greasy residue.
Won't stain your clothing or bedding.
Helps you manage your psoriasis challenges long term.
Which Salcura product will help me treat my psoriasis?
Derma Spray Intensive is a spray that is pure, gentle, and non-greasy. It is known for being the most effective and practical solution to psoriasis. Either a mild or extreme case of psoriasis will benefit from this product.
Salcura Zeoderm is ideal for you if your skin gets dry and cracked due to extreme cases of psoriasis. You can use this product to help break the scratch-itch cycle. We recommend this moisturiser for extreme cases of psoriasis as it is fast-acting and helps hydrate and repair the skin.
For cases of extremely sensitive skin with psoriasis, we suggest you use Salcura Derma Spray Gentle. It can be used on the sensitive skin of adults and also for infants under 12 months.