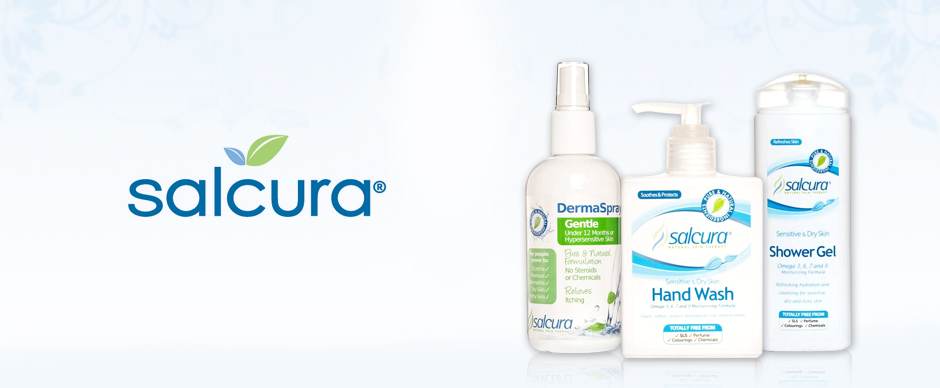 Clearing eczema with Salcura
Having problems with Eczema?
If you suffer from eczema or have a loved one who does you'll be happy to know that Salcura has products to gently help clear your skin. Most eczema sufferers face the problem of their skin being so itchy that it stops them from getting the most out of their day and getting a good night's sleep. Eczema on the face, hands, and eyelids can also lead to embarrassing feelings during social activities.
Individuals with eczema face additional concerns because, in most cases, available eczema treatments are thick, sticky and tend to stain sheets and clothing. Also, most use artificial chemicals like topical steroids that are not natural.
It's time to try something new!
Salcura is a brand that specialises in gentle skin care products like creams, sprays, and wipes that will help treat eczema. It was originally developed in the 1990'2 by a German bio-scientist, Dr Martin Schiele, to help treat the problems that factory workers faced while handling chemicals. Salcura's charm is that it is made purely natural ingredients like tea tree, calendula flowers, lavender, eucalyptus, rosemary, manuka, aloe vera, and sea buckthorn. This gentle blend of ingredients helps treat eczema in a whole new and natural way.
Use Salcura products for eczema because it…
Is made with natural ingredients and is a natural alternative to other chemical based products
Is safe for adults, children, and babies
Is safe to use during pregnancy and breastfeeding
Is cool, gentle, and soothing for itchy eczema areas
Doesn't leave greasy stains on your sheets and clothes
Instantly calms your skin
Which Salcura products will help treat my eczema?
Pure, gentle and non-greasy, Derma Spray Intensive spray has a track record for the most effective and practical solution to eczema. You can use this product to help soothe your skin if you have either a mild or extreme case of eczema.
Salcura Zeoderm is ideal for using when the skin gets dry and cracked due to extreme cases of eczema. You can use this product to help break the scratch-itch cycle.
If you have extremely sensitive skin, we suggest you use Salcura Derma Spray Gentle. It can be used on the sensitive skin of adults and also for infants under 12 months.