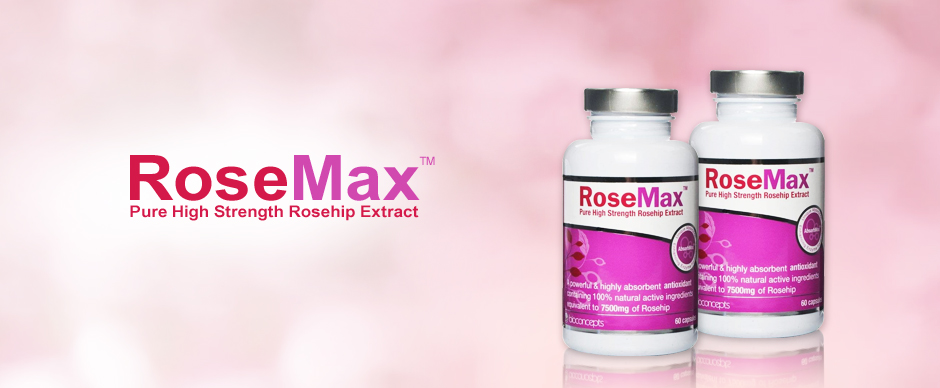 What is RoseMax™?
RoseMax™ is a daily supplement containing a high quality standardised extract of Rosehip providing naturally high amounts of vitamins A, C, E and carotenoids. Rosehip is widely believed by experts to have beneficial properties in helping to support and maintain normal joint function.
Rosehip is an anti-inflammatory required for the support and maintenance of healthy joints.
Vitamins A, C & E are antioxidants required within the body to fight against the free radicals that cause damage to the joints.
Contains AbsorbMax, a patented compound scientifically proven to speed up the nutrient uptake within the bloodstream.
How does RoseMax™ work?
The Rosehip extract within RoseMax™ is taken from the seeds within in the red berry-like fruit of the wild rose bush. Rosehip is widely believed to possess anti-inflammatory and antioxidant properties which may help to assist in the defence of damage-causing inflammatory chemical molecules attacking the joints. It is these free radicals that may potentially harm the soft tissues within the joints, which can lead to many forms of common joint problems. By taking RoseMax™ daily, you may help to decrease joint inflammation, joint pain & as a result, improve mobility.
How do I take RoseMax™?
For best results follow the recommended dosage in the instruction table on the enclosed leaflet.
What does RoseMax™ contain?
Rosehip extract equivalent to 7500mg (7.5mg) of actual Rosehip. Rosehip is often teamed up with glucosamine to help you maintain good joint health. The rose has historically been known for its romantic attributes. Its fruit, the rose hip, has also been observed and used for centuries based on the belief that it possessed healing properties.
Who is RoseMax™ for?
If you do not take prescribed medication for your joints but you suffer from arthritis or poor joint health and do not like to continually take anti-inflammatory, over the counter medicines (such as ibuprofen) that may cause unwanted side effects, but you still require help with maintaining your joint health, then RoseMax™ may be the alternative for you.
Can I take RoseMax™ alongside medication or if I have an existing medical complaint?
It is recommended you consult your healthcare professional before taking RoseMax™.
How do I take RoseMax™?
For best results, follow the recommended dosage on the enclosed leaflet.