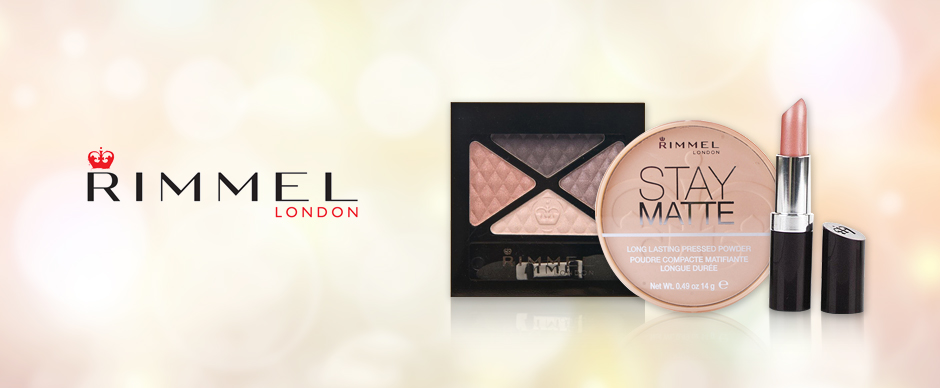 Get to know the best tips and tricks for your makeup right here with a little help from Rimmel makeup. Knowing the basics will enable you to achieve a perfected and flawless look every single day. Some of the most simple effects can sometimes be tricky to master, which is why we've put together a few simple steps that will help you perfect any look!
The perfect eyeliner flick:
Start off with a natural eye shadow shade for your base lid colour and sweep across the lid and lightly across the bottom lash line. Add more to the eye contours and outer corner.
Using Rimmel Exaggerate Liquid Eye Liner, sweep a line across the top lid as close to the lashes as possible.
As you get to the outer corner of the eye, create a flick at an angle in the direction of the end of your brows (so if you kept going your brow and the liner would meet).
Keep the flick subtle for daytime wear and add some thickness for a more dramatic nigh time look.
Bold lip colour:
Pick a shade that suits your skin tone - Kate Moss's Lasting Finish Lipstick collection has some great choices if you're going for a bold lip colour.
Use a brush or your finger to dab the colour onto your lips, starting in the centre and working out towards the outer corners.
Line the lips with a liner that matches your lip colour to define the lips and make them stand out.
For an ultimately glossy look, try Rimmel Apocalips Lip Lacquer in 8 daring shades.
Blacker than black mascara:
For an ultimate wide-eyed effect, curl your lashes from the roots for a few seconds.
Using Rimmel Scandaleyes Mascara in the Deepest Black shade, firstly ensure there is no excess mascara on the brush to achieve the zero-clump finish.
Brush down on the lashes, rotating the brush at the end to curl lashes upwards.
Then brush the lashes upwards using a zig-zag motion with the wand to ensure every lash is caught and coated with a dramatic black effect.
Perfect foundation finish:
Firstly, use the Rimmel Fix and Perfect Primer to create an excellent base for makeup on your skin.
Choose from the 11 shades of Match Perfect Foundation that best suits your skin tone.
Using either a brush, sponge or your fingers (depending on your skin type) work from the centre of your face and blend your foundation outwards.
Use Rimmel Stay Matte Powder and sweep gently across the skin, paying attention to the forehead and nose.
Finally, brush your powder across your cheeks for an ultimate flawless, natural matte finish.