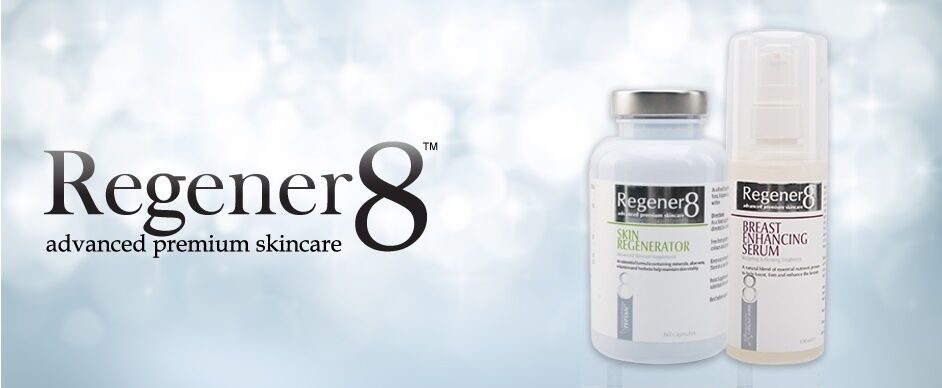 Regener8 Skin Regenerator: FAQ's
What is Regener8 Skin Regenerator?
Regener8 Skin Regenerator formulation contains 100% active ingredients that work synergistically to help repair and heal the appearance of scars, stretch marks, and ageing or dehydrated skin.
How does Regener8 Skin Regenerator work?
The key ingredient, Peptan™ is hydrolysed collagen, supported by vitamins, minerals and botanicals that all work to enhance your body's own levels of collagen that depletes with age, and the result is younger looking skin, improved skin moisture levels, improved skin smoothness, prevention of the formation of deep-winkles and improved skin suppleness. Stretch marks and scars will appear visibly reduced.
How do I use Regener8 Skin Regenerator?
For best results follow the recommended directions in the enclosed leaflet.
What does Regener8 Skin Regenerator contain?
Peptan™(a beef collagen based ingredient), Seaweed – Ascophyllum nodosum 80mg, Zinc (citrate) 5mg, MSM 50mg, Aloe Vera 25mg, Vitamin C (ascorbic acid) 80mg, Calendula - Calendula Officinalis 35mg, Lavender - Lavandula Angustifolia 35 mg, Rosemary - Rosmarinus Officinalis 20mg, Chamomile - Anthemis Nobilis 20mg, Vitamin A (acetate) (750 iu) 225mcg, Vitamin E (D Alpha Tocopherol) (30 iu) 20mg
Who is Regener8 Skin Regenerator for?
Anyone who wishes to improve their skin's health and reduce the visibility of fine lines, wrinkles, scars or stretch marks.