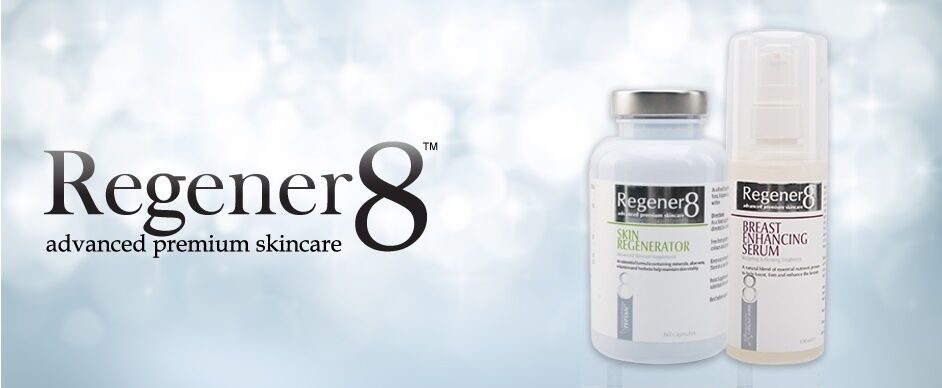 Supplements
Scars are a fundamental part of the healing process and result from of too much collagen being produced at the wound site. Scars go through many changes as they develop, but they are permanent. The Regener8 Skin Regenerator formulation of Peptan?, seaweed, vitamins and minerals has been developed to help improve the appearance of scars, not remove them. Regener8 Skin Regenerator contains various ingredients that help to improve skins elasticity, making it softer, smoother and suppler, and in doing so, helps lessen the appearance of wrinkled skin. Additionally, Regener8 Skin Regenerator moisturises skin to help improve the tone, texture and appearance of wrinkles and fine lines.
Skin Regenerator Success Stories
"Regener8 Skin Regenerator is great. I started using it after I burnt myself on the stove. It left a scar on my arm which people now barely notice, but more importantly, that I barely notice!" - Michelle
"Stretch marks are part and parcel of pregnancy I think, so I took it during my pregnancy (after consulting my GP) and I did not get many, and of the ones I did get, they are hardly noticeable!"- Theresa
"I had acne as a kid. It left my back with some scarring that isn't too bad, but I noticed them. I dared not take my t-shirt off in hot weather for embarrassment. I tried Regener8 Skin Regenerator as it contains Seaweed which apparently helps acne. My back is looking better already. I may take my top off this summer." - Lewis
"I have a scar on my chest from surgery I had as a child. I have only worn clothes that cover it up, but I really wanted to wear v-neck tops, which sounds easy, but my embarrassment was too much to bear. So I started taking Regener8 Skin Regenerator daily, and the scar appears to be less visible. I have become more confident in the clothes I wear, and most importantly, I feel good." - Candice
Topical
Regener8's topical creams, oils and serums have been designed to sculpt, firm, hydrate and revitalise your skin. The range includes a variety of products from day and night cream to tummy toning and face masks. Here are some of the important active ingredients we use in our unique products to give you skin the best visible results.  
SLIMEXIR®
Many women struggle with areas of fat on their abdomen, legs, bottom and arms. Things become especially problematic when the excess pounds on buttocks and thighs are joined by cellulite.
SLIMEXIR® declares war on unloved problem areas. The ingenious combination of X-Melt®, a mix of methylxanthines, extract of artichoke (Cynara scolymus) and the polysaccharide levan mutually support each other and efficiently combat excess fat. By means of X-Melt®, the maturation of adipocytes is suppressed so that less fat is stored in the fat cells. Each of the individual components of SLIMEXIR® activates lipolysis and causes the existing fat to increasingly fragment into fat globules and decompose. X-Melt® and the Artichoke extract stimulate the cutaneous microcirculation and improve the removal of the decomposed fat. Levan also provides a tightening film on the skin. SLIMEXIR® visibly and measurably refines the silhouette and when used regularly leads to a significantly slimmer abdomen.
LIFTONIN®
An active ingredient complex against skin ageing. It has been specially designed to improve the skin structure. Its active ingredients are botanical silicon from millet and skin tautening tannins from the oak. In-vivo studies with LIFTONIN® confirm an improved skin structure by reducing wrinkles and lines, as well as a generally younger appearance.
CELLACTIVE®-SHAPE
 Improves the appearance of cellulite by: Breaking down fats to reduce protuberances of fat tissue in the dermis and epidermis. The typical wave structure of cellulite is reduced. Improving microcirculation so that broken down fatty acids can leave the tissue quicker. Improved lymphatic flow takes the pressure from the tissue Tightening the epidermis and smoothing the surface.
CELLACTIVE®-FORM
A plant-based complex of active ingredients supporting the natural process of lipid deposition lending fullness to the bust. The complex of active ingredients has been developed and tested specifically for application to the breast and cleavage area. Its active principle is based on the synergistic action of its ingredients; Mangosteen, Quince-hydrogel and the Essential Cell Boost-Factor. It re-shapes the contours of the cleavage area and optimally accentuates the feminine features.
ILLUMISCIN®
Is effective against age spots and provides radiance, and even skin tone. Its balanced composition of oleuropein, stabilised vitamin C and zinc PCA comprehensively combats the pigments melanin and lipofuscin, which are both responsible for the appearance of age spots. The active ingredient thus prevents the formation of age spots in a unique way. In parallel it successfully reduces the size of existing age spots and diminishes their contours. The skin tone is evened out, the skin looks younger and becomes radiant again. The application of ILLUMISCIN® for the treatment of age spots is patented.