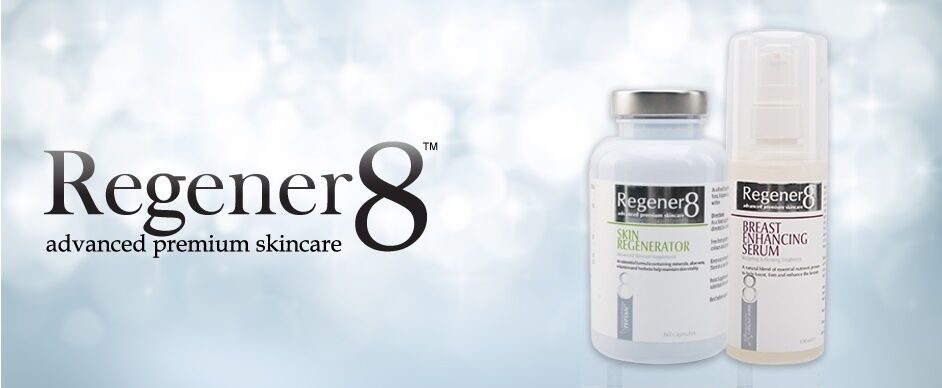 Regener8 skin, body and hair supplements creams and serums are scientifically formulated with the simple aim to achieve visible results. The science behind the success?..the use of select ingredients carefully blended with the latest clinical research and modern day science.
Some of Our Top Products Include:
Regener8 Skin Regenerator is a new, revolutionary skin care supplement comprised of hydrolysed collagen, seaweed, vitamins, minerals and botanicals, which has been carefully formulated by leading pharmacists and nutritionists specifically to help heal and repair the appearance of scars, stretch marks, and ageing or dehydrated skin. Its natural formula heals and repairs skin and can be used alongside Bio-Oil or Vitacreme B12 for the ultimate skin regeneration of damaged skin.
Regener8 Breast Enhancing Serum from Chemist Direct, contains 5% Cell-Active®- FORM, a constituent made up of 3 key ingredients ? Mangosteen, Quince-hydrogel and the Essential Cell Boost-Factor, all of which work synergistically together to help to produce the result of a surgical breast enlargement without invasive surgery! Located within the female health section, Regener8 is perfect for women who feel their breasts fall short of their individual expectations for size and firmness.
Regener8 Anti-Cellulite Formula -We all know how difficult it can be to rid the dreaded signs of cellulite. Luckily Regener8's new, unique skin care supplement has been expertly, designed to combat its appearance. Formulated using CLA, a ground-breaking acid known to help reduce fat, as well as a host of natural ingredients including Green Tea Extract to further enhance the formulas effectiveness in caring for your skin.