Unlimited Standard Delivery for a whole year
Sign up to our Annual Premier Delivery Pass for unlimited standard delivery with no minimum spend for a whole year.
Only £9.99 a year
Just add to basket (like you would a product), and the delivery discount will automatically be added at checkout.
*Cut off times, dates, and area restrictions may apply.
How it pays for itself
At £9.99 for the whole year, Premier Delivery Pass pays for itself after just 3 orders with standard delivery
Total Delivery Cost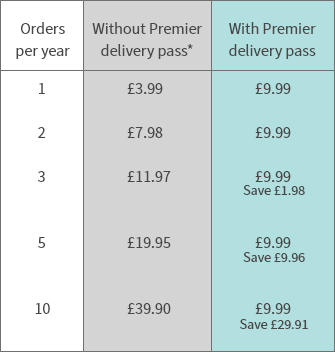 *Based on standard UK Delivery at £3.99 an order