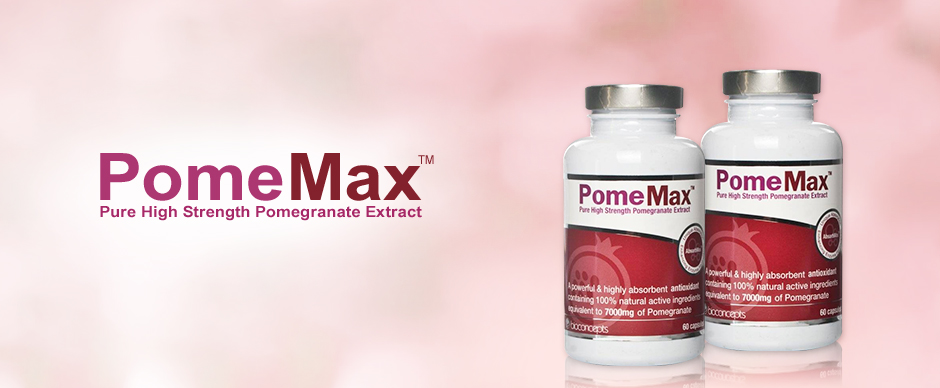 Pomegranate - The power is proven!
PomeMax™ contains a high quality extract with the guaranteed strength and potency of the active ingredients of an actual pomegranate.
Pomegranate is a powerful antioxidant that helps to support the maintenance of the body's natural free radical defences. Most of us simply don't have the time or money to eat pomegranate on a regular basis, that's why PomeMax™ was created.
Pomegranate allows you to get all the benefits of eating numerous pomegranates a day
These include:
May help blood pressure
May help slimming/weight control - as the polyphenols within pomegranate may act as an appetite suppressant. According to a study cited in the Metro Newspaper 29th January 2013, regularly consuming an extract consisting of the skin, pith and seeds of the pomegranate can reduce hunger pangs while increasing the feeling of being full.
May help reduce LDL (bad) cholesterol
May help prevent the cartilage damage that leads to osteoarthritis
May help protect the arteries from plaque build-up
"Researchers at Queen Margaret University, Edinburgh studied the physiological effect of daily consumption of 500ml of Pomegranate Pure pomegranate juice over a two-week period. The study found that having the drink every day resulted in lower stress hormones and a reduction in blood pressure" Telegraph, 2011.
As one of the most potent antioxidants, pomegranate may help to lower cholesterol levels. The pomegranate is also rich in vitamins A, C, E, & iron, all of which help to maintain our general health. It's filled with nutrients and loaded with antioxidants.
Research indicates that it can help lower blood pressure, reduce LDL (bad) cholesterol, prevent the cartilage damage that leads to bone disorders and can protect the arteries from plaque build-up. "After just one month, volunteers who consumed a bottle of pomegranate juice every day were found to have much lower blood pressure, therefore reducing their risk of heart attacks, strokes and kidney disease" Daily Mail, 2010.
So isn't it time to try this scientifically proven super food?