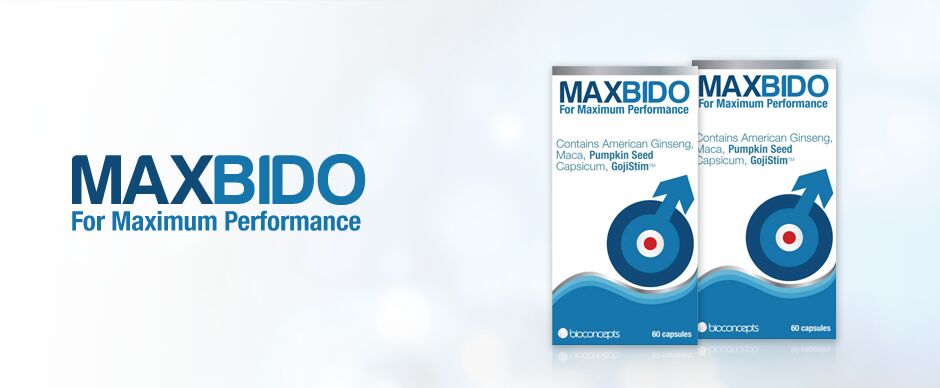 Dr Catherine Hood
The natural way to rise to the challenge
A natural alternative to Viagra, designed to boost sexual performance in men by enhancing energy levels and stimulating the senses, launches today.
New Maxbido has a unique fast-acting formula, utilising powerful natural ingredients shown to help boost men's sexual performance and desire for sex .
Maxbido contains a natural blend of four herbal ingredients: GojiStim™, Korean Ginseng, Pumpkin Seed and Maca Extract. The unique formulation GojiStim™ is made from concentrated extracts of dried Goji berries, using 35 per-cent polysaccharides, which have been shown to improve energy levels and enhance sexual stimulation .
A recent Korean Ginseng clinical study showed that it was effective for treating male erectile dysfunction by boosting nitric oxide output, the chemical which is responsible for modulating blood flow to the penis.
Sexual health expert and psychosexual specialist Dr Catherine Hood, comments: "Whilst it is widely reported that men think about sex every seven seconds, around one in four admit to failing to perform in the bedroom . This is a common problem I see on a regular basis which can be affected by psychological issues such as anxiety, stress and depression as well as physical issues such as drinking too much alcohol and being overweight."
Chief pharmacist, Krishna Soma of www.chemistdirect.co.uk says:"Maxbido offers a natural first choice to the millions of men who suffer from sexual dysfunction but do not want to take Viagra or other pharmaceutical drugs. What's more, for men too embarrassed to visit their pharmacist, Maxbido is exclusively available from online pharmacy www.chemistdirect.co.uk."|
The old adage 'behind every good man is a great woman' proves true as Krishna comments "Sales show that many women are taking their husbands health into their own hands as we have seen sales of Maxbido sky-rocket! However, you should always consult your GP if you are regularly experiencing erectile dysfunction as this can signal other health conditions."
Follow Dr Catherine Hood's top tips on improving your sexual performance:
1. Eat well
The vitamins, minerals and antioxidants in fruits and vegetables can help encourage blood flow to all areas of the body. Add plenty of tomatoes, broccoli, berries, sweet potatoes, spinach and kale to your diet. Pumpkin seeds, brazil nuts and almonds all have high levels of arginine, an amino acid that helps increase the levels of blood in the genitals.
2. Watch the booze
While a small amount of alcohol (one or two drinks) does not damage sexual performance, regular over-indulgence can lead to difficulties and can often be a leading cause of impotence in men as it can impair the impulses between the brain and the genitals.
3. Workout and lose weight
Exercise helps to release feel good chemicals called endorphins, eliciting feelings of happiness and confidence. If you are overweight, a study found that losing just five - ten per cent of body weight over a two month period improves erectile dysfunction.
4. Stop smoking
It is thought that smoking is responsible for impotence in 120,000 men in the UK aged between 30 and 49 . This is because your arteries harden which can narrow the smaller blood vessels leading to the penis, causing permanent erection difficulties.
5. Relax
Stress and anxiety are some of the main psychological causes of erectile dysfunction. Try going for a relaxing massage or book yourself a weekend break in the countryside to get your mojo back!
6. Get some sleep
Getting a good night's sleep can improve overall health and give you the energy you need to have an active sex life. Try to go to bed around the same time during the weekend so you don't break your natural sleep cycle.
Maxbido, priced at £24.95 for 60 capsules, is a new product from Bioconcepts, the leading brand in vitamins, minerals and health supplements. Always read the label.