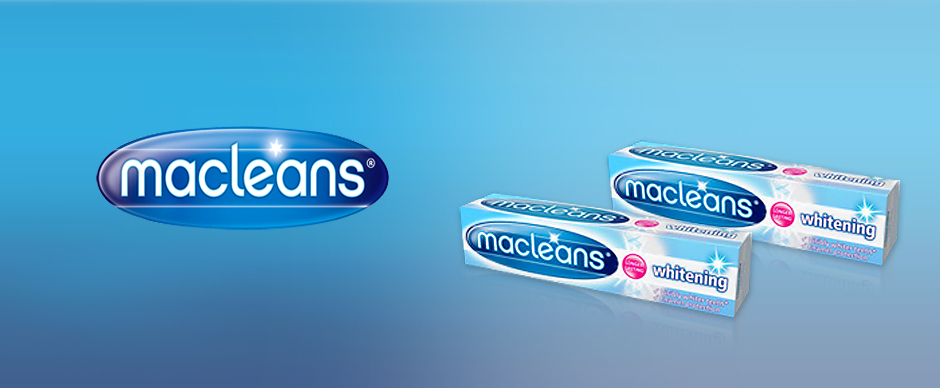 Which Macleans product is right for you?
Sometimes, picking the right oral health care products for you can be quite tricky. It's difficult to know which products are best for you, considering the huge array of choice that we are presented with today to ensure all oral needs are catered for. Thankfully, Macleans make the process simple and easily allows you to find the best product for you, as most of their products are specially designed to help whiten your teeth and brighten your smile.
Whitening:
If you suffer from minor stains on the surface of your teeth then Macleans Whitening is ideal for brightening your smile. With whitening microparticles that remove stains on the tooth surface without damaging the enamel, the Macleans formula also leaves behind an invisible protective barrier against further stains. It is perfect if you are prone to tooth discolouration and are looking to protect your teeth against stains.
Ice Whitening:
Not only can you gain beautifully pearly whites, but Macleans Ice Whitening is a gel formula that leaves an icy fresh blast to your breath. It allows you to achieve visibly whiter teeth and icy fresh breath while looking after your tooth enamel and protecting your teeth from discolouration.
White & Shine:
Don't just whiten your teeth, but let them shine with Macleans White and Shine. If you find your teeth are a little discoloured and dull then Macleans allows you to achieve visibly whiter and shinier teeth in just 7 days! Its added microscopic whitening pearls don't just lift stains and whiten the teeth, but polish them for an extra dazzling finish.
Health Whitening:
This all-in-one toothpaste has all oral care areas covered! Macleans Health Whitening not only helps to shift stains from the teeth and prevent discolouration, but also protects your tooth enamel and provides a deep cleaning action for lovely healthy teeth and gums and an all-round dentist-clean feeling every single day.
Fresh Mint:
With real peppermint extract, Macleans Fresh Mint provides you with all round oral care by fighting plaque, protecting the teeth against decay and leaving your breath with a light peppermint freshness.