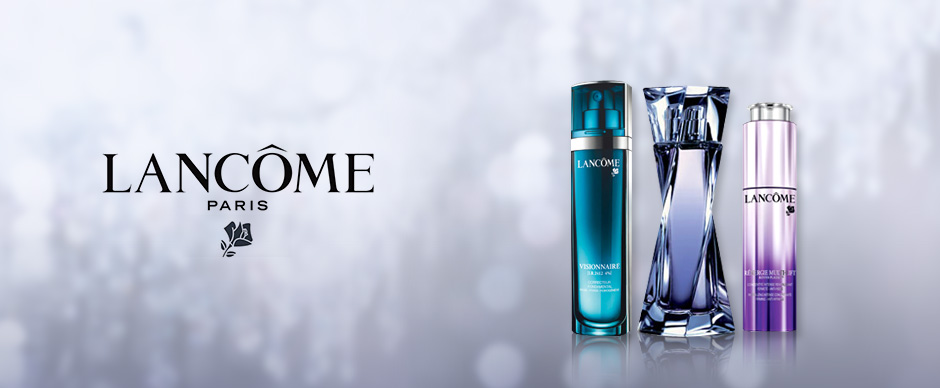 Lancôme is a French luxury perfume and cosmetics house and a leading name in the beauty industry, offering skin care, fragrances and makeup. Founded in 1935 by Armand Petitjean, Lancôme will celebrate its 80th anniversary in 2015. While creating the brand, Petitjean was inspired by French elegance that he simply wanted to deliver across the world and Lancôme most definitely realises this motive.
The name ?Lancôme' was inspired by the ruins of castle Le Château de Lancosme and the roses surrounding it are mirrored in the brand's symbol of the single golden rose. In 1935 when the brand was introduced, Lancôme launched their first 5 fragrances including Tendre Nuit, Bocages, Conquete, Kypre and Tropiques at the World's Fair in Brussels. Petitjean quickly moved into skin care and introduced a multi-tasking repair cream called Nutrix that was launched in 1936 and is still available today. 2 years later, he progressed into cosmetics with a rose scented pink/red lipstick that remained as Lancôme's best seller for the next 30 years. From there, Lancôme rapidly grew in the fragrance sector and expanded into the makeup and skincare market before being taken over by L'Oreal in 1964.
Lancôme has grown into a leading name in the luxury fragrance and beauty industry and has been represented by actresses, global supermodels, makeup artists and perfumers across the years. Emerging fashion designers have also collaborated with the brand including design duo Proenza Schouler who created a dress inspired by the Lancôme Hypnose fragrance. Some of the biggest names have worked with the Lancôme brand including Isabella Rossellini, Kate Winslet, Anne Hathaway, Penelope Cruz and Julia Roberts who have been a part of the brand's cosmetics and fragrances ad campaigns - despite the fact that Petitjean once stated that Lancôme would never advertise.
The brand has also collaborated with several makeup artists, including Sandy Linter as Lancôme's ?Beauty at Every Age Expert? and Aaron De May who is the brands National Artistic Director for makeup. They also brought in the beauty industry's very first video makeup artist to give customers the chance to view makeup tutorials and gain tips and tricks from the best in the industry.
Today, Lancôme now has stunning success in all areas of skincare, cosmetics and fragrance and is consistently developing new products and ideas to ensure women are receiving nothing but the best. They also introduced their male skincare range to provide men with the same French luxury and elegance. One of their latest endeavours was a new lipstick range called ?Rouge in Love' featuring Emma Watson with 24 shades split into 3 different categories inspired by times of the day.