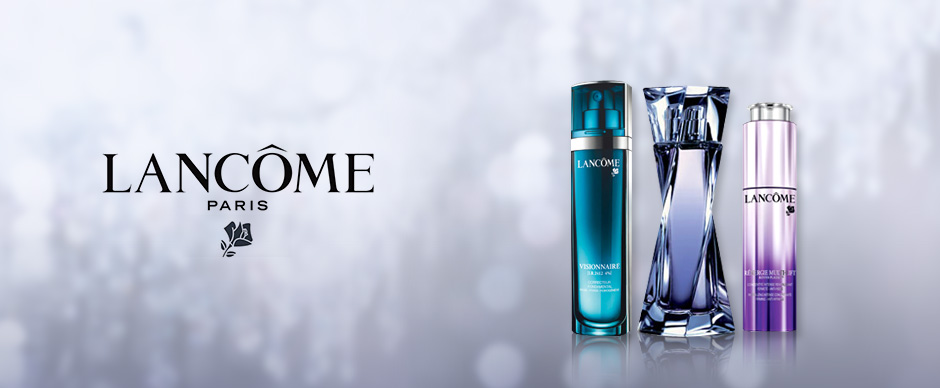 Every woman's skin care should be simple and easy in order to make her skin look the best it possibly can and to create a flawless base for cosmetics. A skin care regime is also the best way to keep the skin clean, clear and fresh, which is why cleaners, toners and moisturisers are so important. Lancôme has something for all skin types, whether it's normal, dry, sensitive or ageing so everyone of any skin type can ensure they are receiving nothing but pure luxury for their skin.
Cleansers:
Cleansing the skin is the very first step in any skincare routine and is an element that should never be skipped. Throughout the day our skin accumulates dirt, bacteria, excess makeup and oil that can clog the pores and lead to blemishes. Cleansing every day ensures that all impurities are eliminated from the skin, as it opens the pores and cleans them thoroughly. Lancôme Cleansers come in different forms including fluid, foam and gel formulas to suit all preferences and each leave the skin with clarified complexion and feeling soft, radiant and healthy.
Toners:
Once the pores have been opened through cleansing, they need to be tightened back up with toner. Toner simply needs to be applied to cotton pads and swept across the skin to clear any excess impurities and dead skin cells, while also hydrating the skin once it has been cleansed. By tightening the pores, the skin's texture will be more refined and feeling softer than ever before. Each of Lancôme's toners are specially formulated by the Lancôme Laboratories with naturally derived ingredients to leave your skin soft, supple and refreshed.
Moisturisers:
The final step in your skincare regime should be a moisturiser that will soothe and calm the skin after cleansing and toning and leave it feeling ultimately silky soft and smooth. Moisturisers also provide your skin with intense hydration that has been lost throughout the day via various external and internal factors causing an alternation in the skin surface. Moisturising restores this alteration and dehydration to soothe and illuminate the skin. Lancôme have even introduced their Hydra Zen Beauty Balm that unifies complexion, enhances skin's radiance and leaves it comfortable and soothed.
The Lancôme skin care collection also contains skin correctors for all skin types and tones like the top-selling DreamTone, Lancôme's very first pigmentation corrector that corrects dark spots, uneven skin tone, colour irregularities, blemish marks and dull skin. Their skin correctors and brighteners also stand alongside a large anti-ageing range including the new advanced Génifique that helps to restore youthfulness by tackling the top 10 signs of ageing skin. Their anti-age collection is simple, yet contains everything you would possibly need to keep your skin looking wonderfully youthful and radiant.