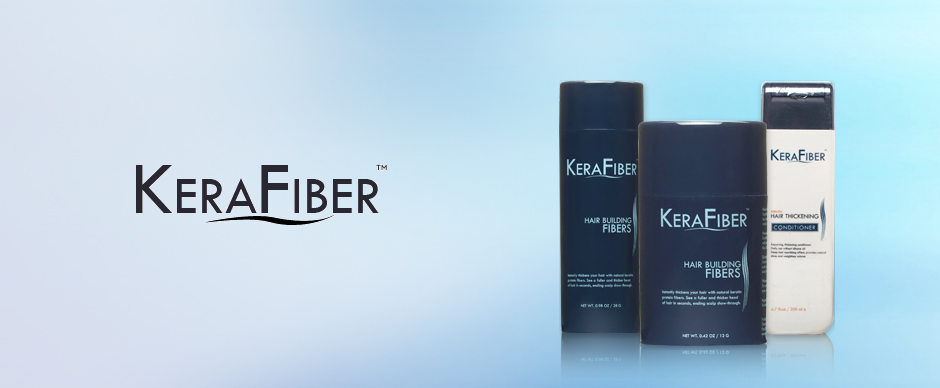 Frequently Asked Questions
What are KeraFiber hair building fibers made of?
KeraFiber fibers are made up of all natural organic keratin protein, the same protein that hair is made of. The fibers are charged with static electricity so they intertwine with your own hair and bond securely. There are no harmful chemicals or additives.
How do KeraFiber fibers conceal thinning hair?
KeraFiber fibers adhere to your existing hair with static electricity and make every single hair look thicker and fuller. It adds volume instantly.
Can KeraFiber hair fibers harm me?
No. KeraFiber is made of organic protein fibers. KeraFiber is for external use only. If irritation appears discontinue use. Avoid contact with eyes. Avoid Inhalation.
Can I mix different colors of KeraFiber?
Colors should be mixed if you have various shades of hair coloration. In fact, it is often encouraged in order to find the perfect color match for your hair, especially when working with blonde or grey hair. The product can either be mixed directly on the head (apply one of the colors, usually the darker shade first, and then the other color over it) or you can mix two colors in an empty bottle to customize a color before application.
Can I use KeraFiber by myself?
Yes, you can put KeraFiber on the scalp yourself by standing in front of a mirror.
Does KeraFiber hair fibers stain?
Absolutely not. KeraFiber fibers will never stain clothes, bed linen or your scalp. If the fibers accidentally drop onto a surface, simply dust them off.
How long will a bottle of fibers last?
12g bottle of KeraFiber hair fibers will last about 30 days if you are using it every day. A 28g bottle will last about 60 days if you are using it every day.
If I am bald can I use KeraFiber?
KeraFiber is ineffective on individuals with no hair. KeraFiber works by adhering to existing hair on the head and is most effective when used in conjunction with thin or thinning hair. So, without some existing hair, the Fibers will not stay in and the product cannot achieve the desired results.
Does KeraFiber work for both men and Women?
Yes, KeraFiber works well for both men and women.
Can I apply KeraFiber to wet hair?
KeraFiber must be applied to dry hair. If KeraFiber is applied to wet hair the Fibers will not adhere to the existing hair and will clump together. So, for best results, make sure your hair is dry before using our product.
Can others tell I'm using KeraFiber?
KeraFiber is completely undetectable and instantly eliminates bald spots and the appearance of thinning hair. Even from up close, people will not be able to tell the difference. However, there are scales of baldness. KeraFiber will only work if there are still existing hair follicles to adhere to.