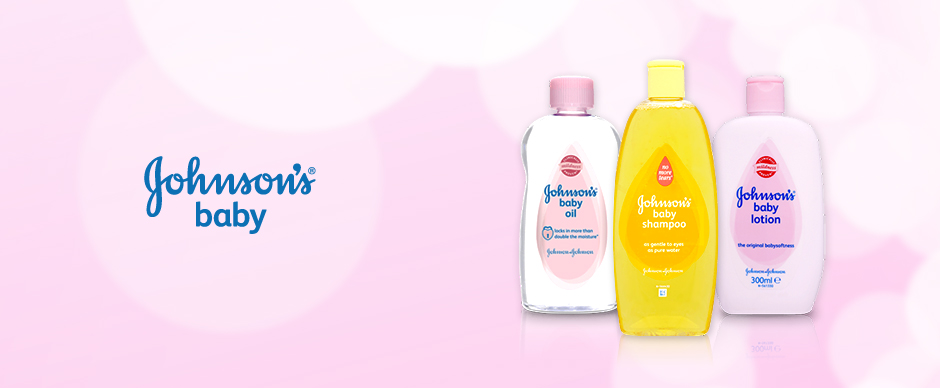 Caring for your baby's skin and hair with Johnson and Johnson
When your baby is first born, nothing is softer than his gentle baby skin and silky new hair. As baby grows and you learn more about the new little personality in your life you'll notice that he/she gets cranky and upset if their skin gets irritated by diaper rash, cradle cap, or other skin conditions. Johnson's range of baby bathing, skin care, and hair care products are made especially for your baby to help keep away the discomforts of rashes and other irritations. With Johnson's mums can rest assured knowing that the skin and hair care needs of their child is met.
Why is baby's skin so soft?
A baby's fresh and soft skin is prone to irritation during the first couple months after birth and this is because your baby is getting used to a new atmosphere. As baby gets older his skin care needs will start to change as he get accustomed to the world around him. The need to clean him will grow too as he gets more active and starts to crawl and move around or even feed himself while taking steps on the road to independence.
A baby's skin is more sensitive than adult skin mostly because it is fresh and more active than adult skin. A baby's skin is constantly changing and developing at a rapid pace, and because of this it is more sensitive to irritants, changes in the weather, or harsh cleansers.
How can I better care for my baby's skin?
Your baby's skin also needs to be moisturized more often to help maintain a barrier against bacteria in the air and other infections. Johnson's 24hr Moisturising Lotion that is made with the extracts of cotton flowers is just one example of a moisturiser that works to keep your child's skin moisturised on a daily basis.
Growing babies are notorious for making messes on their face and hands. It is during this time that baby wipes come in handy. Always choose cleansing wipes that are soft and will provide moisture for your baby's skin. Keep a pack of wipes handy in the diaper bag for whenever you're out and about with baby.
Bathing times are a special time for mom and baby to bond and can be made even more special by choosing the right products. Use Johnson's Top to Toe Baby Wash for a mild foaming wash that can be used on baby's hair and skin. Shampoos and conditioners from the Johnson's baby range help keep your baby's hair free of tangles and knots and Johnson's bath washes are mild to the skin and do not dry it. Choosing baby bath time products that are pure and gentle will make bath times much more enjoyable and relaxing for both mom and baby.