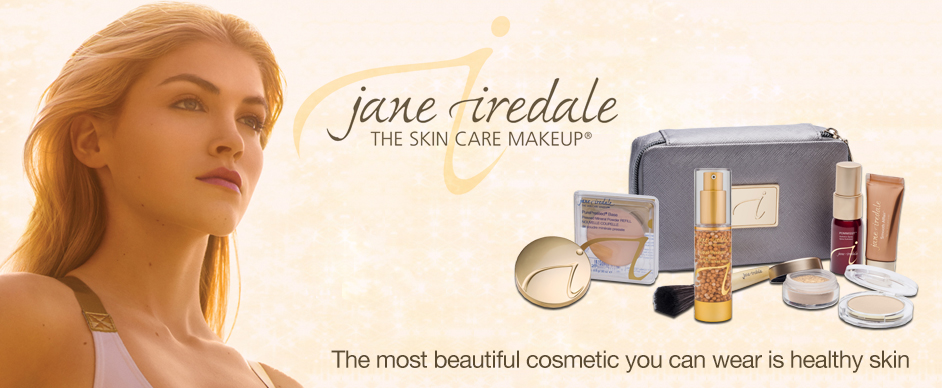 A former casting director Jane Iredale has worked with many top actors whose complexions needed to be perfect. She saw the need for make-up that not only offered colour enhancement but also benefitted the skin keeping it healthy and protected. The high quality ingredients used in Jane Iredale Make-up ensure satisfaction by offering performance, coverage, texture and easy and quick application. The range of cosmetics range has been designed to suit all skin types and tones and features a huge selection from foundations to lip colours, stains and glosses, lip and eye pencils, blushers, eye shadows, mascaras, primers, concealers and facial spritzers. Jane includes a host of natural ingredients in each product offering conditioning moisturising and protection of the skin.
Jane Iredale Mineral Bases
Four in One ? Jane Iredale micronised mineral powder bases are four products in one: foundation, powder, concealer and sunscreen, and will disguise almost any skin discoloration meaning there's no need for a separate cream or liquid foundation.
SPF20 - Based on titanium dioxide and zinc oxide, the minerals give instant, broad-spectrum, chemical-free protection.
Fast, weightless coverage - One quick application provides all-day coverage that doesn't fade, crease or smear. Just a small amount will cover any type of blemish, including acne and rosacea.
Non-comedogenic and oil-free -The skin is allowed to breathe and function normally, promoting a healthy complexion. 
Minimum allergy risk ? There are no sensitizers in the make-up like perfume or chemical dyes and preservatives.
Anti-inflammatory - The mineral bases have anti-inflammatory properties and are especially helpful for acne and rosacea-prone skins.  Ideal for use after facials, waxing, or skin treatments such as micro-dermabrasion and laser resurfacing.
Quality ? State of the art cosmeceutical ingredients are used to ensure the finest performance in coverage, application, and texture. The vitamins and antioxidants are pharmaceutical grade and not tested on animals.