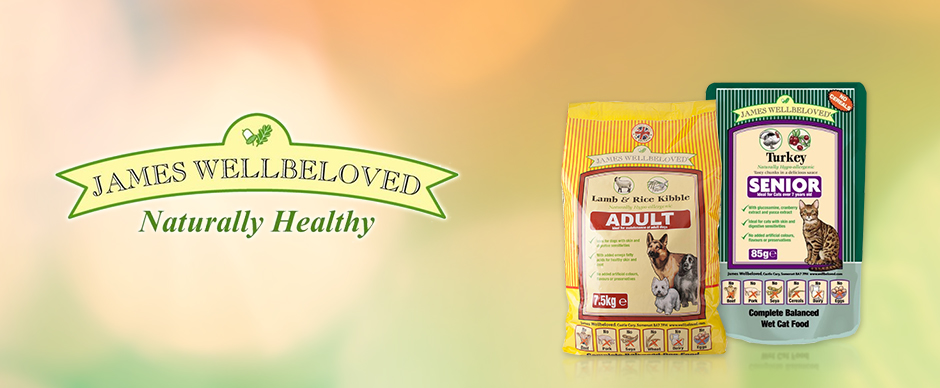 From smaller puppies to fully grown adults, dogs need to be fed responsibly to ensure that they maintain an optimum weight and health. As James Wellbeloved dog foods are all complete and balanced foods, they can be fed to your dog on their own (alongside a bowl of fresh water) and do not need to be supplemented with any other foods. James Wellbeloved food packs each include a feeding guide to ensure that you are providing your dog with the right amount of food to keep them happy and healthy.
James Wellbeloved understand that different dogs have different needs due to their breed and lifestyle, which is why their range caters to all dogs and puppies and provides delicious flavours that will ensure your dog always loves dinner time.
The James Wellbeloved dog range:
Puppy - for up to 6 months
Junior - for dogs aged between 6-12 months
Adult - for dogs aged between 1-7 years
Senior - for dogs over 7 years
Light - for fewer calories and weight control
Small Breed Adult - for small breed dogs over 6 months old
Large Breed Adult & Junior - for large breed adult dogs
Natural Wet Food - a complete dietetic wet food for dogs
Crackerjacks - classic treats for adult dogs
Minijacks - classic treats for small dogs
James Wellbeloved complete dog foods will provide your dog with all vitamins, minerals and other nutrients that they need every day to keep them happy and healthy. They contain natural, tasty ingredients like turkey, duck, fish or lamb blended with rice. Each food promotes and healthy and glossy coat, helps to reduce stool odour and encourages beneficial bacteria in the gut. Their foods also avoid any ingredients that are the common causes of adverse food reactions.