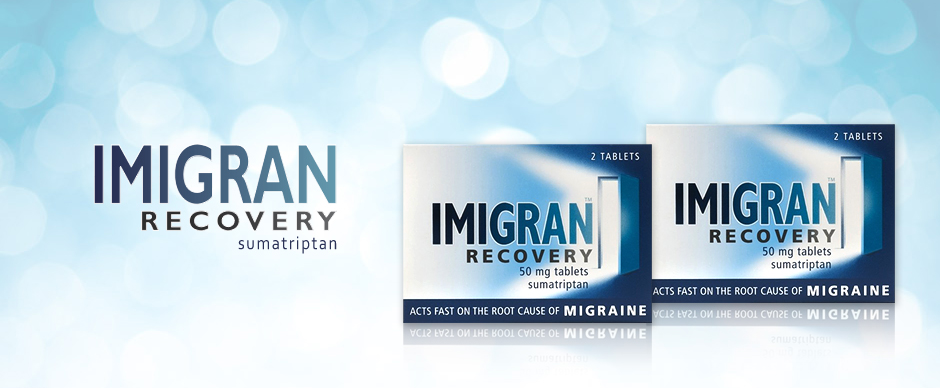 Previously only available on prescription, Imigran Recovery is a specifically designed migraine treatment which is available to purchase over the counter from your pharmacist. It contains the active ingredient sumatriptan.
It works in the following way:
Sumatriptan acts like serotonin, the brain chemical that is found to drop in migraine attacks. It helps to correct the chemical imbalance in the brain and return blood vessels to their normal size. Sensory nerves are calmed.
Main migraine symptoms – headache, nausea and sensitivity to light (photophobia) and sound (phonophobia) can disappear. Headache relief can start in just 30 minutes and sufferers can get complete relief in two hours.
Imigran Recovery can give you back your days. It means you may not have to worry about cancelling plans or going home sick from work when you feel a migraine coming on. Treat the attack at the earliest sign and you can get back to normal and on with your daily activities in just a couple of hours.
Taking Imigran Recovery
Just one tablet can bring relief from migraine and treating the attack early gives you the best chance of recovery.
Take the tablet as soon as you're sure it's a migraine and not just a typical headache.
Imigran Recovery can still be effective even if you take it later in the attack.
If there is an improvement but symptoms return, then take the second tablet after at least two hours.
No more than two tablets should be taken within 24 hours to treat the same attack.
If there is no improvement after taking the first tablet, taking the second tablet will not be effective.
Is it suitable for me?
Imigran Recovery is available for people aged 18-65 with a stable and established pattern of migraine, who do not get relief from other analgesics. However, like all medicines, it's not suitable for everyone. To determine whether or not it's right for you, and because of the strength of the product, your pharmacist will ask you to fill out a short mandatory Migraine Questionnaire when purchasing Imigran Recovery for the first time.
Don't take Imigran Recovery:
Unless you suffer from migraines and this has been confirmed by a doctor or pharmacist.
If you are trying to prevent a migraine attack – only take it when your migraine headache begins.
Until you're sure it is a migraine and not just a typical headache.
If you are under 18 or over 65.
If you have had an allergic reaction to sumatriptan, or any ingredients in the tablets, or to sulphonamide antibiotics.
If you have heart problems including heart failure, a previous heart attack, angina (chest pains), or an irregular heartbeat.
If you have had a stroke or mini stroke (also called transient ischaemic attack or TIA).
If you have had high blood pressure or are being treated for it.
If you have kidney or liver disease.
If you have epilepsy or are prone to seizures (fits).
If you have circulation problems in your legs and have cramp-like pains in your legs when you walk, or if your doctor has told you that you suffer from peripheral vascular disease.
If your doctor diagnosed one of the rare forms of migraine (hemiplegic, basilar or opthalmoplegic migraine).
If you are taking antidepressants called monoamine oxidase inhibitors (MAOIs) e.g. phenelzine, isocarboxazid and tranylcypramine or have taken them in the last two weeks
If you are taking other migraine treatments
If you're not sure, please consult your pharmacist or GP