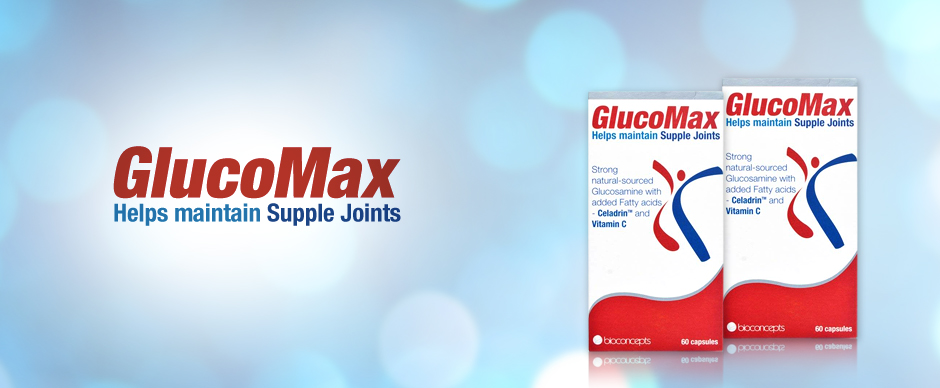 What is GlucoMax?
Glucomax is the most potent, powerful form of glucosamine supplement available on the market today which helps maintain healthy joints.
What does GlucoMax do?
Glucosamine is an important nutrient for joint health maintenance as the body's ability to manufacture collagen seems to decline with age. Joints and muscles in good working condition allow for a full range of movement and flexibility. GlucoMax helps you achieve good joint health.
Are there any undesired effects or precautions whilst taking GlucoMax?
GlucoMax tablets have no known side-effects when taken as directed. Do not exceed the recommended intake.
Consult your doctor before use if taking warfain or other oral anticoagulants.
Diabetics should consult their doctor before using this product.
GlucoMax is not recommended during pregnancy or breastfeeding.
In case of overdose, seek medical advice immediately.
When do I take GlucoMax?
For best results follow the recommended dosage in the instruction table on the enclosed leaflet.
How many GlucoMax tablets should I take?
For best results, follow the recommended dosage on the enclosed leaflet.
For how long should GlucoMax be used?
Results vary with individuals, but in most cases beneficial effects of GlucoMax build over one to three months. There is no maximum length of time over which GlucoMax may be used, but a regular intake is recommended.
Can I take GlucoMax alongside medication or if I have an existing medical complaint?
It is recommended you consult your healthcare professional before taking GlucoMax.