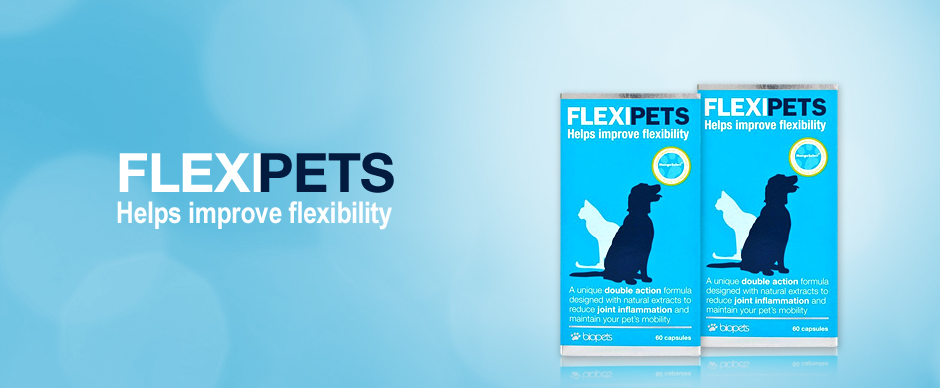 What is FlexiPets?
FlexiPETS is a powerful joint care supplement containing Glucosamine, Mangosteen (MangoSelect™), MSM and Flaxseed, which when combined, creates a powerful, effective formulation aimed at helping to improve joint pain and mobility within your cat or dog, so they can simply get on with enjoying their life.
Giving your cat or dog a daily joint supplement from an early age, is a great way to help maintain their joint integrity throughout their life.

How does FlexiPets work?
The ingredients work synergistically to provide optimal joint health.
Glucosamine is required for the repair of cartilage and other connective tissues and MSM is a naturally occurring sulphur compound that plays a role in promoting growth & maintenance of connective tissues and joint health.
The active ingredient in Mangoselect is xanthones. Xanthones are natural compounds that work as potent antioxidants and provide the body with powerful plant-based nutritional benefits such as excellent anti-inflammatory properties and Flaxseed is high in an omega-3 fatty acid called ALA or alpha-linolenic acid. ALA fatty acids have been shown to reduce inflammation within blood vessels and even in joint tissues.

How do you administer FlexiPets?
Directions for use: Cats 1 capsule, Small dog (up to 10 kg) 1 capsule, Medium dog (10 to 25 kg) 2 capsules, Large dog (25 to 40 kg) 3 capsules. Put capsule(s) into dog's mouth or pull capsules apart and mix into their wet food.

What does FlexiPets contain?
Each FlexiPets capsule contains: Aloe Vera ( 200 x extract) 25mg (equivalent to 5g of Aloe Juice), Maltodextrin 75mg, Glucosamine HCL – vegetarian source 220mg, MangoSteen (MangoSelect™) 50mg, Vitamin C (as Calcium ascorbate) 25mg, MSM 50mg, Flaxseed (sources of Omega 3, 6 and 9 oils) 50mg

Can my cat or dog take FlexiPets™ alongside medication or if they have an existing medical complaint?
It is recommended you consult your vet before giving your cat or dog FlexiPets™.