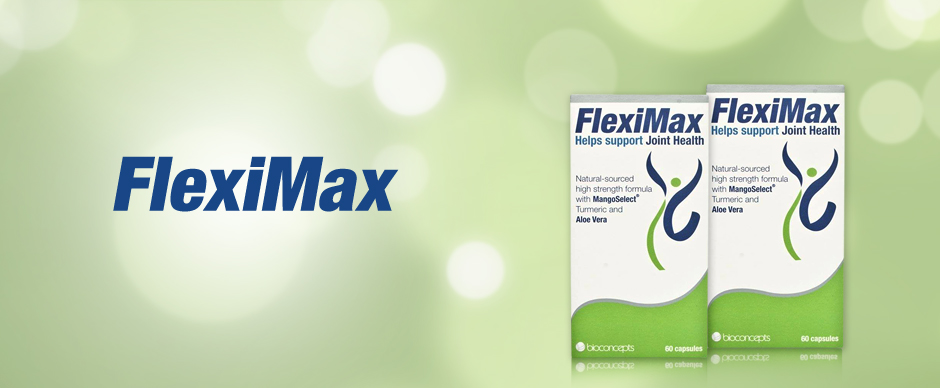 Key Ingredients
What is in FlexiMax?
New and exclusive to Chemist Direct, FlexiMax is the first joint care supplement to be launched including the patented ingredient, Mangoselect. Mangoselect contains Mangosteen, the super anti-oxidant receiving significant press coverage in the US for its joint health and antioxidant benefits.
Why is Mangoselect so important?
The active ingredient in Mangoselect is xanthones. Xanthones are natural compounds that work as potent antioxidants and provide the body with powerful plant-based nutritional benefits such as excellent anti-inflammatory properties. Of all the known sources for xanthones, the mangosteen fruit supplies some of the highest amounts found in nature.
To complement Mangoselect, Fleximax also contains Turmeric, Aloe Vera and Olive leaf extract, all traditionally used to aid joint health and flexibility.

Turmeric
has the unique ability of using its antioxidant powers to seek out and destroy free radicals in the body which contribute to pain and swelling.

Mangosteen
exhibits anti-histamine and anti-inflammatory properties. Clinically proven to reduce joint pain, Mangosteen is the alternative for joint health formulations.

Aloe Vera
contains anti-inflammatory properties and its & ability to speed up cell growth, is of great value. Aloe Vera contains large amounts of vitamins E, C, B1, 2, 3, and 6. Aloe Vera also has iron, manganese, calcium and zinc. All these vitamins and other essential minerals found in Aloe Vera, combine to repair the sufferers'damaged tissue due to the swelling and inflammation that joint damage brings.

Joint pain caused by inflammatory disorders like arthritis and sporting injuries can be extremely debilitating. With NSAIDS (Nonsteroidal Anti-Inflammatory Drugs) readily available on prescription, it is easy to turn to medication to help relieve the symptoms of pain but the side effects can be very unpleasant. Fleximax is made from natural ingredients with no significant side effects.