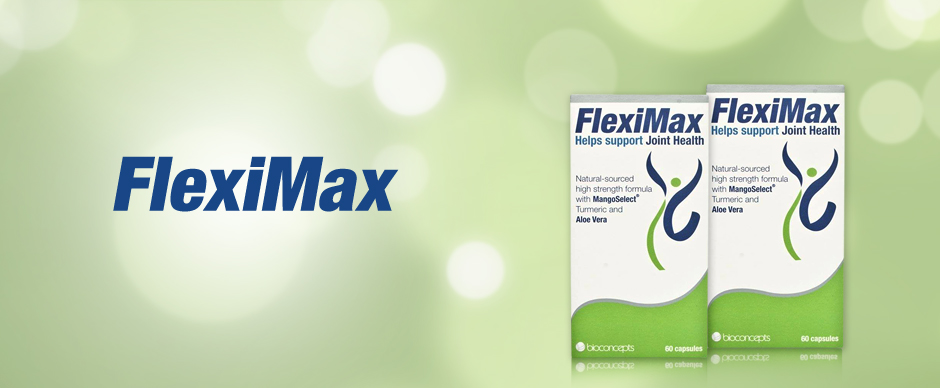 Lorraine Kelly "It's important to take a supplement that helps keep my joints supple"
December 4th
TV QUEEN Lorraine Kelly has revealed the secrets behind her 26?year career ? and how she has managed to survive the ITV axe TWICE.
The Scots presenter, who was first offered a job at TV?am in 1989, has ?outlasted that show and its successor, GMTV.
And while others ? notably at Daybreak ? have come and gone, Lorraine's ?popularity ? continues to soar, winning her a re?vamped show in her own name.
In an exclusive ?interview with The People, she ?revealed how she still feels "blinking lucky" to be where she is. Fresh from filming, Lorraine ?explains: "I am lucky to be doing what I do, because it really is a joy.
"Millions of people get up at 5am and they're ?doing bloody hard work ? not getting a private ?concert from Il Divo
Lorraine Kelly Speaks Out About Her Health Problems ? 21st February 2012
Lorraine Kelly is the picture of health but despite losing a stone after her desert trek for Comic Relief last year, the much?loved TV presenter confesses that she secretly worries about a health problem that plagues many of us ? arthritis.
"I've put a lot of pressure on my joints with four marathons, a few moonwalk marathons and, of course, the Comic Relief trek" Lorraine, 52, admits. "My last London Marathon in 2010 was hard ? pounding the pavements really didn't do my knees any good. I make sure I stay as healthy as I can by eating well and exercising, but when I took up tennis last year and suffered from the inevitable tennis elbow, I realized it was time to start looking after the health of my joints as well."
Reluctant to take medication for her joints strains, Lorraine turned to natural supplement Fleximax to ease her pain. "I'm not one for pill?popping, so something natural is a good choice for me," she says. "it's a preventative measure more than anything. I'm lucky that I come from a strong and healthy family ? I think my parents will outlast me! And I do feel better than I've ever felt at the moment. But sometimes you just need a bit of help to make sure your joints don't suffer."
Lorraine's Jointcare- Woman's Own- 5th March 2012
It's well known Lorraine Kelly likes to keep fit and, now she's in her fifties, she's keen to take extra care of her joints. ŽI want to as healthy as possible and love walking my dog, playing tennis and cycling', she says, 'but sometimes you need a bit of help to make sure your joints don't suffer, I'm not one for popping pills, but I take vitamins and minerals and love it when something that helps me is natural, like FlexiMax.'
Made from mangosteen, aloe vera and turmeric, FlexiMax has been shown to reduce joint pain by 55 percent after five days.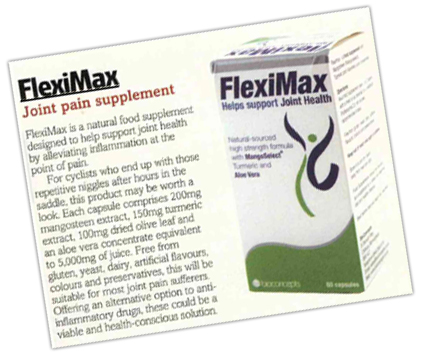 FlexiMax - Cycling Fitness
Thursday 1st December 2011
FlexiMax is a natural food supplement designed to help support joint health by alleviating inflammation at the point of pain.
For cyclists who end up with those repetitive niggles after hours in the saddle, this product may be worth a look.
Each capsule comprises 20mg mangosteen extract, 150mg tumeric extract, 100mg dried olive leaf and an aloe vera concentrate equivalent to 5,000mg of juice. Free from gluten, yeast, diary, artificial flavours, colours and preservatives, this will be suitable for most joint pain sufferers.
Offering an alternative option to anti?inflammatory drugs, these could be a viable and health?conscious solution.
Taking painkillers such as ibuprofen can increase risk of heart disease
Taking the drugs daily can increase the chances of an irregular heart rhythm ? known as atrial fibrillation ? by up to 70 per cent, a new study found.
Patients who had recently started using non?steroidal anti?inflammatory drugs were 40 per cent more at risk of the condition, researchers in Denmark discovered.
That could lead to a stroke and heart disease, and be fatal.
Anti?inflammatory drugs are used by millions of people to treat pain and inflammation from many common conditions such as arthritis.
The team from Aarhus university hospital studied more than 30,000 patients with abnormal heart rhythm who took non?steroidal anti?inflammatory drugs ? such as ibuprofen, diclofenac, marketed under the brand name Voltarol, and naproxen, often sold as Naprosyn.
Natasha Stewart, senior cardiac nurse at the British Heart Foundation, said the overall risk was small.
But she urged patients to talk to their GPs first if they were worried.
'Those most at risk are the elderly or people with other illnesses, such as chronic kidney disease or rheumatoid arthritis,' she added.
In Action...FlexiMax ? Cycling Weekly
24th November 2011
Tested by Rebecca Charlton When: After riding.
Why: This natural food supplement is designed to help support joint health by reducing inflammation. Each capsule contains mangosteen extract; turmeric and dried olive leaf and an aloevera concentrate, offering a safer option to anti?inflammatory drugs. My joint pain subsided after a couple of weeks with the use of FlexiMax and a couple of physio appointments, so well worth a try.
Fruit Mangosteen ? Femalefirst.co.uk
22nd December 2011
Grows: The mangosteen is a tropical evergreen tree believed to have orininated in the Sunda Island and the Moluccas of Indonesia.
Traditional uses: Various parts of the plant have a history of use mostly in Southeast Asia. It is reputed to have possible anti?inflammatory properties, and may have been used to treat skin infections or wounds, or urinaty tract infections.
Fruity facts: Due to restrictions on imports,mangosteen is still rare in the produce sections of supermarkets in Europe.
Everyone is talking about...Mangosteen
Woman's Weekly, 10 January 2012
What is it? Known as the Queen of Fruits in South East Asia, the rind of this tropical fruit has been used medicinally for generations.
Best for: Weight loss, increased energy, more flexible and less painful joints, thanks to its antioxidant and anti?inflammatory properties.
The low?down: In one study, patients suffering from joint pain who took a mangosteen supplement reported a noticeable reduction in their pain.
Daily Express The Cures From Paradise
20th March 2012
Beneath its dark purple rind the mangosteen, which grows in warm and very humid climates, has a sweet, white flesh.
It originates in the steamy lowland tropical jungles of Thailand and Burma and is traditionally used throughout South East Asia for the treatment of a range ailment.
These include fighting infections, healing wounds and stomach complaints. Recent research has shown the rind of the mangosteen contains high levels of the powerful antioxidant xanthone. The rind was traditionally ground to treat infections and research suggests xanthone may relieve some of the symptoms of arthritis and protect against heart disease.
Despite the similar?sounding name the mangosteen, which is about the size of a peach, is not related to the mango.
TRY: FlexiMax Pain Relieving Natural Supplement contains a high dose formulation made from mangosteen which may reduce joint pain by up to 37 per cent.