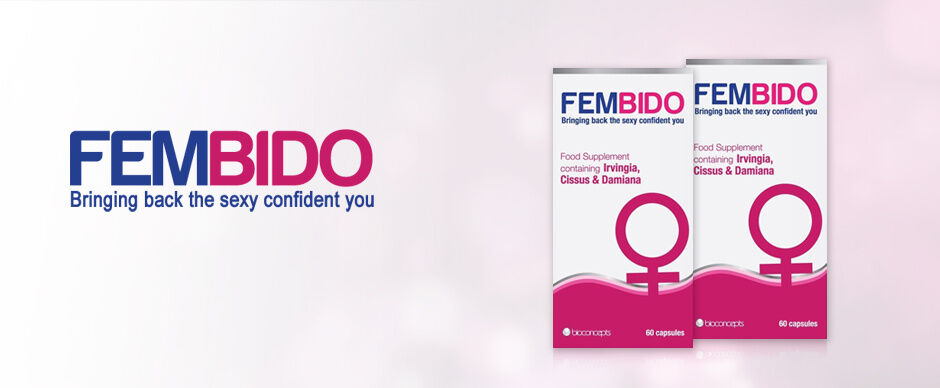 Lack Of Libido
Many factors can affect a woman's sex drive, from psychological issues such as stress, physical issues such as anaemia or diabetes, and also hormonal imbalances that can be caused by your menstrual cycle or prescription drugs. Whatever the reason for a loss of sex drive, our all-natural products will ease the symptoms associated with a loss of sexual desire such as dryness and poor blood flow, bringing back the sexy, confident you.
Physical causes
Alcoholism
Drug Abuse
Obesity
Anaemia
Prescribed drugs
Any major disease such as diabetes
Psychological causes
Depression
Stress and overwork
Latent homosexuality
Serious relationship problems with your partner
What makes Bioconcepts Fembido better than other Libido enhancers?
Fembido uses only natural ingredients to promote sexual desire and weight loss. Its similar to prescription libido enhancers, but without all of the unwanted side effects of prescription medication.
Fembido enhances sexual desire, intensity, interest & excitement, and as it 'is' all natural, it's beneficial to women of all ages. So embrace the benefits of the all-natural herbal remedy Fembido.
We use only natural ingredients of the utmost standard
No known unpleasant side effects
100% doctor approved
Developed by UK Pharmacists & Nutritionists
UK Manufactured with GMP Approval
Fembido Checklist - What to look out for when buying libido booster products
Choose an all natural supplement
This will dramatically reduce any side effects that you would experience with a prescription drug.
Ensure it has been developed by UK pharmacists & nutritionists and manufactured in the UK as imports are not as heavily regulated.
Research the ingredients
They should all relate to enhancing sexual arousal. Look out for fillers!