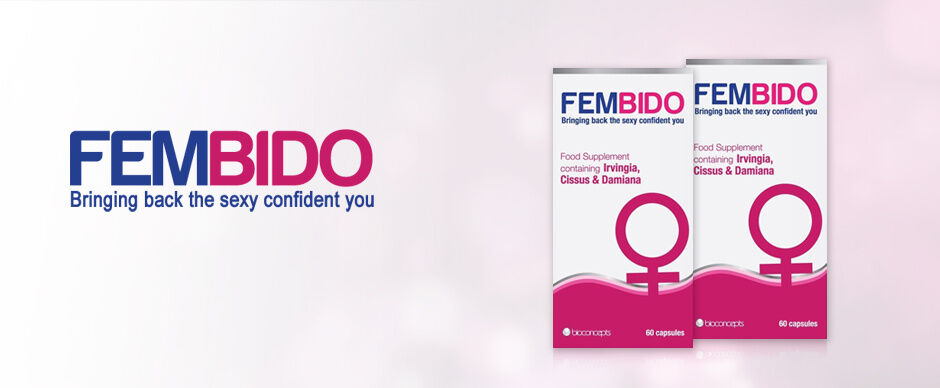 Prima Magazine: Let Your Libido Loose!
1st September 2011

Stamp out Stress - "A happy disposition is key to feeling sexy" says sexual health expert Dr Catherine Hood. "A pleasant bath or massage can switch off stress and switch your on!" Also its worth trying the natural aphrodisiac Damiana found in Fembido
Womans Own Magazine
Good Health Guide - 4th July 2011
Around a third of women are affected by low sex drive, particularly during and after the menopause. Fembido contains natural aphrodisiacs irvingia cissus and daminana leaf, which boosts blood flow to heighten sensitivity

Girls Sex Drive Pill
15 February 2011
Fembido has been highly regarded as the new pill to enhance the female sex drive. "The tablet called Fembido, claims to increase girls sexual sensitivity and orgasms. The pill uses a Central American herb called the Damiana leaf - used for its aphrodisiac properties. Clinical trials show it increases the circulation in private parts - boosting sensitivity and desire."
Womans Views On News
New drug to make women feel sexy - 15 February 2011
A passion pill was launched on Valentine's Day to boost female libido, increase sexual sensitivity and encourage orgasms.
With a third of British women claiming to be affected by a lack of libido, new Fembido is expected to meet the ?medical need'. The supplement, which claims it ?brings back the sexy confident in you?, contains a natural blend of three herbal ingredients ? Irvingia, Cissus and Damiana. Irvingia and Cissus, both plants extracts, have been used for centuries as aphrodisiacs.
The additional active ingredient Turnera diffusa, also known as Damiana, is also used in Agent Provocateur perfume. Damiana increases the circulation and sensitivity in genitalia and boosts sexual desire.
Sexual health expert and psychosexual specialist Dr Catherine Hood, said: ?Many women find their interest in sex decreases from time to time, even if they are in a secure relationship and a low libido is one of the most common sexual problems I encounter.? ?It is a complex issue which can be affected by psychological issues such as stress and depression, physical issues such as anaemia and even hormonal imbalances that can be caused by the menstrual cycle.? 

The Natural Ingredient Irvingia increases sexual desire n a matter of weeks
"The natural ingredient Irvingia increases sexual desire in a matter of weeksand can be taken prior to intercourse in much the same way as Viagra. It is believed the key natural ingredient, Irvingia Gabonensis an extract of the African mango, eaten for its health benefits - could be responsible. A tea-based infusion of the extract has been used for centuries in Africa as an aphrodisiac."