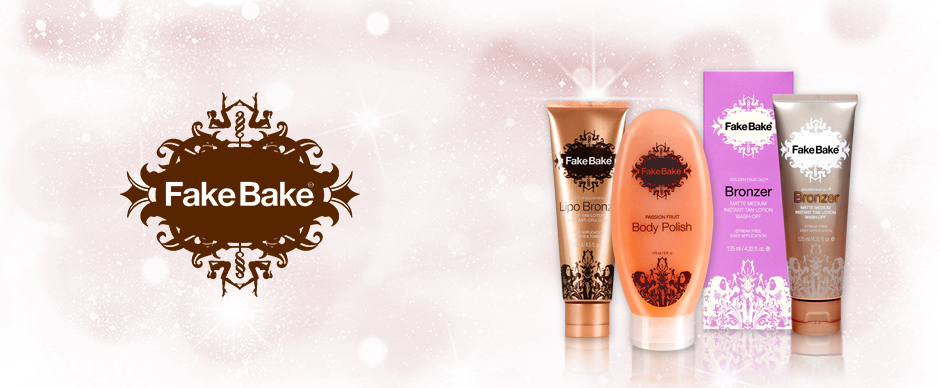 Live The Lie!
If you've got it, flaunt it! If you haven't, fake it!
We all know UV rays are harmful to your skin, and now it's winter, you won't be able to catch a tan naturally so the only way forward is to fake it! And who better to fake it with than the UK's leading number 1, Fake Bake.
Fake Bake have a massive range of lotions, mousses and mists with moisturisers and exfoliants to make sure you get the most out of your tan. Not only this, but as the nation's favourite, Fake Bake are constantly upping the ante, with new innovative lotions being launched regularly to not only provide you with a healthy wash of colour, but to help treat certain skin complaints, such as cellulite or dry skin.
Follow this step by step guide to get that summer glow all year round!
Start with a good prep routine. If you don't prep the skin sufficiently, the tan may become uneven, patchy or streaky. Like with most things, planning equals perfection, so don't skip this stage thinking it wont make a difference because this is probably the most important step in applying your tan! Make sure you have shaved or waxed at least 24hours before tan application! If you do not leave enough time between hair removal and tan application, you could end up with the dreaded "plucked chicken" effect, as the tan will melt into your open follicles and leave that dotted appearance once it has developed. Make sure you thoroughly exfoliate before application, too, as the tan will only develop on the top layer of the skin, where the dead skin cells have accumulated. If you do not exfoliate, the tan will last for a much shorter period of time, as the dead skin cells are constantly shedding and renewing themselves. By exfoliating before application, you make sure the tan is applied to fresh layers of skin thus meaning the tan will not only last much longer, but will also go on much more evenly. Try Fake Bake Passion Fruit Body Polish for a fresh, fruity treat, and make sure to pay particular attention to commonly dry areas such as the knees or elbows.
Apply a generous amount of self-tan lotion in gentle circular movements all over the body. Many professionals apply tan using long, light stroking movements going in the same direction as the blood flow, so it's worth experimenting to find what suits you best. After all, everyone is different and there really is no wrong or right way, so long as it suits you. For best results on the legs, bend the knee when applying to the front and then straighten when applying to the back as this avoids any tan sitting in the creases, and you can use this method when applying to the elbows too. To get the right colour consistency for hard to tan areas such as feet, ankles, hands and wrists use only a small amount of tanning lotion mixed with moisturising cream. You'll find half a pump is far more than enough for these areas. This gives a natural look and ensures the tan won't stain in hard to remove places such as nail edges and cuticles. You should also use only one part tanning lotion mixed with one part moisturiser when tanning the face, ears and neck. This is because the face is much more delicate than the rest of the body, and doesn't tend to tan as easily as the rest of the skin, and since you don't want to suffer a fake tan faux pas on your face, you will find using 50/50 is more than enough to sufficiently tan your face.
Gently pat all over the body once the tan has been applied to ensure all tanning product has blended in. This will guarantee no streaks! If you still feel some areas seem to have a tan build up, or other areas seem lighter, don't panic! Just reach for the professional mitts! This is any good taners secret to gorgeously golden skin with no streaks, no stains and no patches! Simply buff over the entire body once the lotion is mainly set, and pay particular attention to those pesky areas again, such as the knees, elbows, ankles and face. This will guarantee even coverage and takes just minutes to do!
For a subtle top up, mix one part Fake Bake tanning lotion with one part moisturising cream. This gives a slightly more delicate appearance to the tan and makes application easier, so if you make mistake, it won't be noticeable. This is a great tip for maintaining your tan between professional applications, or to extend the life of your tan after holidays or self tan application.
Make sure you wash hands immediately and thoroughly after any contact with the tanning lotion, aside from deliberate application.
To prolong your tan, apply plenty of Fake Bake Tan Enhancing Lotion after every shower. Avoid other brands, as they can leave the skin alkaline, which can then strip the skin of colour. Fake Bake Tan Enhancing Lotion has been specially formulated not to do this to give you an even, glowing tan day after day.