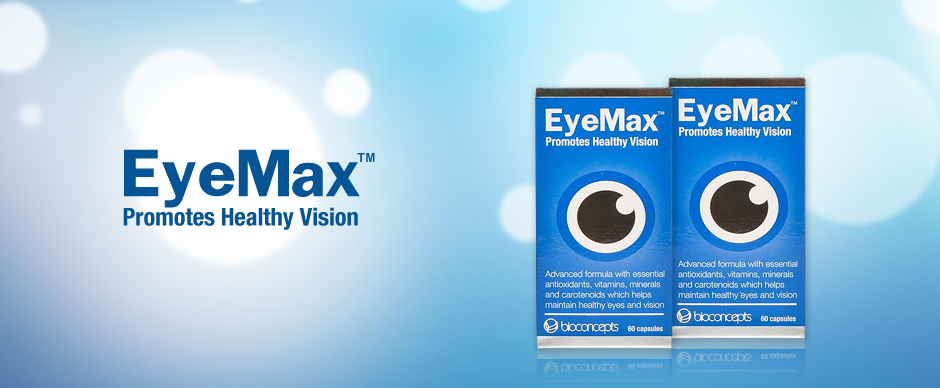 What is EyeMax™?
EyeMax™ is a dietary supplement formulated with lutein alongside essential vitamins and minerals for the maintenance of healthy eyes and general eye health.
What is Lutein and how can it help eye health?
Lutein is a carotenoid. Carotenoids make up the critical parts of the eye's macular pigment. The macula can be depleted through years of exposure to light and oxidative stress, but the lutein in EyeMax™ can help offset this. Lutein even protects the optic nerves from the damaging effects of ageing.
What vitamins or minerals does EyeMax™ contain?
EyeMax™ contains the carotenoid lutein to help protect the eyes against the effects of exposure to damaging light. EyeMax™ also contains Vitamin A, to help vision in dim light, and the antioxidant Vitamin E to help protect cell membranes. EyeMax™ even contains Vitamin C to protect cells and keep them healthy. The Vitamin B2 in EyeMax™ is proven to help maintain good eyesight, and a key sign of deficiency in this vitamin is itchy, irritated eyes. EyeMax™ also contains the trace elements zinc, selenium and manganese.
What quantity of Lutein does EyeMax™ contain?
Each EyeMax™ capsule contains 12 mg lutein providing 600mcg of actual lutein per capsule.
Can EyeMax™ be taken at the same time as other vitamin supplements?
We advise that you consult your medical practitioner before taking another vitamin supplement with EyeMax™.
Can EyeMax™ be taken with any other medications such as Warfarin?
We recommend you consult your GP before starting to take EyeMax™ if you are taking medication for an existing medical condition.
Can EyeMax™ be taken whist pregnant or breastfeeding?
It is not advisable to take EyeMax™ during pregnancy/breast feeding.