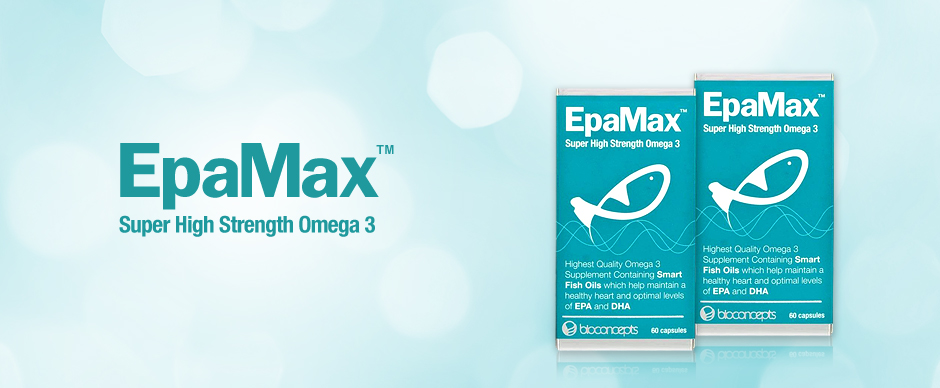 Today, it would seem, many do not consume enough Omega-3 fatty acids within their diet. And yet, a good fatty acid level with adequate levels of Omega-3 offer a clear impact upon concentration, mental alertness, cardiovascular health and general physical capabilities & wellbeing.
Omega-3 fatty acids are crucial for those who partake in sports as well as those who are continually under pressure at work and required to perform to the best of their ability. This is why EpaMax™ provides these nutrients in their most effective form.
Scientists who specialise in heart and cardiovascular health have created a measuring scale for an optimal Omega-3 fatty acid profile. According to this, the ideal percentage of EPA & DHA to promote healthy circulation is between 8-11%.
Yet, most Westerners have an Omega-3 index of a maximum of about 4.5%. To elevate your Omega-3 index to a healthy 8%, people would have to consume at least four portions of fish a week, which is not only hard to achieve but unhealthy due to the high doses of PCBs and heavy metals found in most types of oily fish.
Why choose EpaMax™
A single capsule of EpaMax™ contains 1000mg Fish Oil, including 330mg EPA and 220 mg DHA. This will allow you to increase your Omega-3 index extremely quickly and in a manageable manner. The high quantity of EPA and DHA will help maintain the health of your heart and arteries as well as have a positive impact on your concentration, mental state, memory function, vision, and stamina.
EpaMax™ is of the highest quality and purity. It is manufactured to Good Manufacturing Practice (GMP) and Good Hygiene Practice (GHP) procedures and regulations. Independent analyses are carried out on all the individual ingredients.