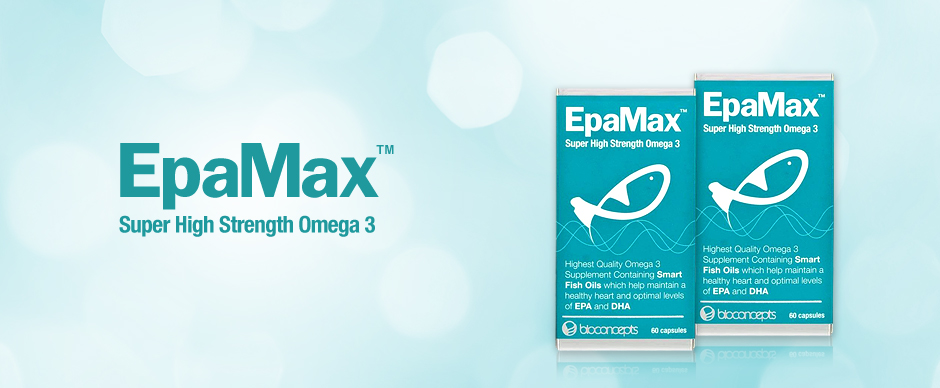 What is EpaMax™?
EpaMax™ is a concentrated omega-3 EPA food supplement providing 330mg of EPA and 220mg of DHA in a 1000mg capsule. EpaMax™ has been carefully developed by leading pharmacists and nutritionists to help support healthy heart, joint and brain function.
How does EpaMax™ work?
EpaMax™ contains high levels of EPA and DHA, 2 omega-3 fatty acids essential to brain health. EPA and DHA help the brain to receive signals, by making the cell membranes more flexible. These fatty acids also work against damage caused by free radicals within the body that may cause inflammation, by attacking the free radicals and inhibiting their inflammatory response.
How do I take EpaMax™?
For best results follow the recommended amount in the instruction table on the enclosed leaflet.
What does EpaMax™ contain?
Each 1000mg capsule contains 330mg EPA & 220 DHA.
Who is EpaMax™ for?
EpaMax™ has many functions. It can be beneficial to those who suffer with depression, who wish to maintain healthy heart & cardiovascular function, those who wish to support joint health and those who wish to alleviate pain associated with inflammation of cells with the body caused by disease or infection in a natural way.
How do I take EpaMax™?
For best results, follow the recommended amount on the enclosed leaflet.
Can I take EpaMax™ alongside medication or if I have an existing medical complaint?
It is recommended you consult your healthcare professional before taking EpaMax™.