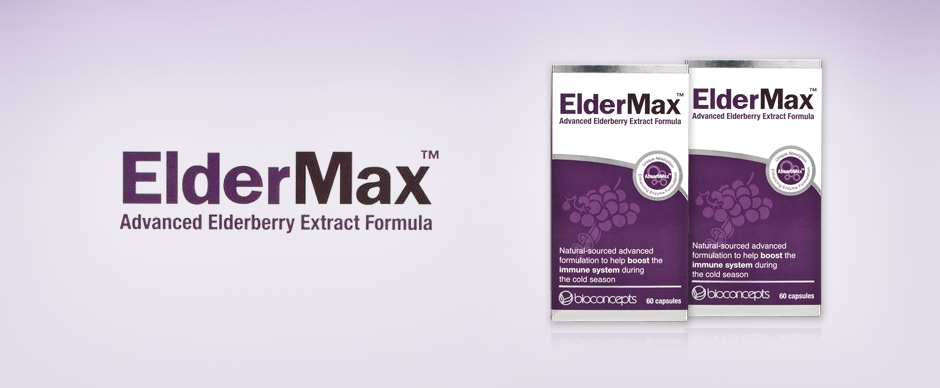 How does ElderMax™ work?
ElderMax™ contains Elderberry extract, Vitamin C and Zinc, all of which are which extremely powerful antioxidants that minimise cell damage and strengthen the body's immunity by stabilising free radicals, thus helping to reduce damage to the body that could potentially cause illness and disease.
Elderberries are a rich source of nutrients and active compounds that benefit the immune system. Anthocyanins, rich phytochemicals called flavonoids, are what gives the elderberries their dark colour, and are powerful antioxidants that protect against free-radical damage and oxidation.
These anthocyanins are located in the purple pigment of black elderberries. Scientific research has shown that the anthocyanins in black elderberry can increase the production of cytokines, the proteins that act as messengers within the immune system, and in doing so, serve to improve the body's immune response.
ElderMax™ contains extracts of black elderberry making ElderMax™ is a rich source of anthocyanins which have been shown to help maintain the body's immune system.
What evidence is available to support ElderMax™?
The Sambucus nigra or the black elderberry is a plant native to Europe, Northern Africa and parts of Asia. The black elderberry, due to the dark pigmentation of its fruit, contains high concentrations of the flavonoid group of antioxidants called anthocyanins. It is these natural antioxidants that give the elderberry its purple pigment. This means that the fruit of the black elderberry have powerful antioxidant capabilities.
Studies concerning the antioxidant activity of many types of fruits, including the black elderberry have shown that the total anti-oxidative capacity of the elderberry was higher than that of the blackcurrant, gooseberry, cranberry, blueberry and redcurrant. Based on the amount of stress that modern society has put upon our bodies, it may be advantageous to take an antioxidant supplement, like ElderMax™, to help maintain your Immune System.
Does ElderMax™ contain any artificial sweeteners?
No.
Does ElderMax™™ contain any artificial flavours?
No.
What preservatives does ElderMax™ use?
None.
Does ElderMax™ contain animal derived ingredients?
No.
Is ElderMax™ dairy free?
Yes.
Is ElderMax™ gluten free?
Yes
Does ElderMax™ contain any artificial colours?
No.
Is ElderMax™ sugar free?
Yes.
Is ElderMax™ suitable for use by vegetarians?
Yes.
Can ElderMax be used during breastfeeding?
It is not advisable to take ElderMax™ at this time due to a lack of clinical data available on the use of ElderMax™ during breast feeding. Always consult your GP before starting to take any new supplement or medication whilst breastfeeding.
Should I take ElderMax™ before or after meals?
There is no evidence to recommend whether ElderMax™ should be taken before or after food. Given that ElderMax™ has been extracted from the berries of the black elder, some may prefer to take it after food.
Are there any possible interactions between ElderMax™ and other substances?
No interactions between black elderberry and other medications have been identified from published worldwide literature. But as with all medical conditions, check with your GP before taking any other supplements or medications.