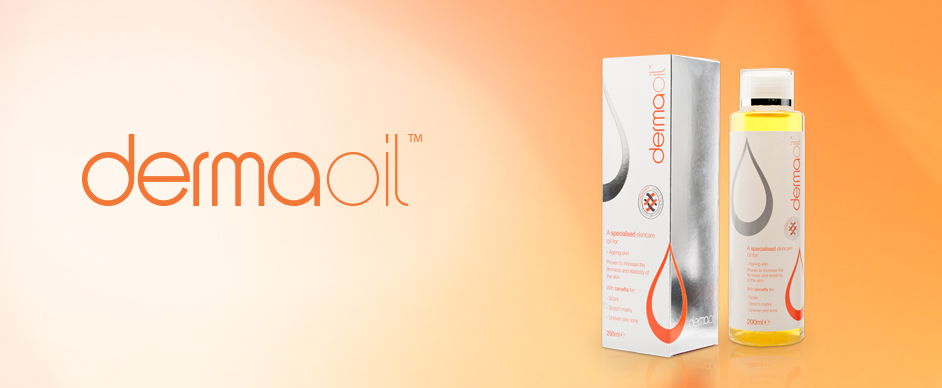 Dermaoil is a revolutionary, 100% natural skin repair oil that is new and exclusive to Chemist Direct!
Dermaoil is a specialist skin care product containing 100% natural, premium ingredients for stretch marks, scars and anti-ageing. It also contains beauty breakthrough ingredient Collageneer that is clinically proven for its effectiveness on skin repair. This intensely moisturising oil can also be used for dehydrated skin, sun damaged skin, acne and uneven skin tone, while also being an effective hand, nail and cuticle treatment.
One of Dermaoil's special features is that it is manufactured right here, in the UK. It has been exclusively developed by UK pharmacists and dermatologists and is manufactured in adherence to strict UK-based guidelines with the highest quality ingredients. This unique skin care oil stands out from similar oils because of its 100% natural and 100% premium ingredients. Dermaoil is therefore completely free from wheat, preservatives, colourings, yeast and synthetic fragrances and can be used by absolutely any skin type.
Dermaoil Skin Repair oil is proven to greatly improve the skin's firmness and elasticity, thanks to its patented active ingredient Collageneer. This revolutionary ingredient is derived from Lupin seed coatings and is clinically trialled and tested to increase the synthesis of the production of collagen type I in order to moisturise, nourish, firm and rehydrate the skin. It is proven to reverse the visible signs of ageing, heal the skin and leave skin looking and feeling completely replenished and full of health.
It is the perfect oil for reducing the appearance of old and new stretch marks, scars and uneven skin tone and works to alleviate the discomfort associated with scar tissue healing. When used twice daily for a minimum of 3 months, Dermaoil has the power to minimise the appearance of blemished skin all over the body including legs, stomach, breasts, hands and face.
Dermaoil is the natural, specialist skin care product that stands out in the beauty crowd. It will repair and replenish your skin thanks to its revolutionary high quality ingredients. Dermaoil is the only skin care essential that you need for all-over beautiful skin!