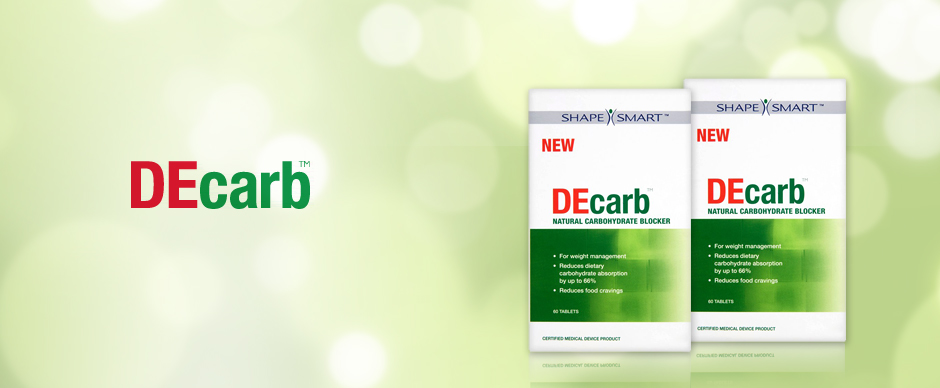 We all know that DEcarb has hit the market as an exciting new product that promotes balanced eating habits in order to result in weight loss. Because Decarb contains a natural complex that reduces the calorie intake of your body by blocking up to 66% of the dietary carbohydrates that are eaten, you are then able to enjoy large amounts of bread, potatoes, pasta, or what have you, and achieve the shape that you want. The 66% of dietary carbohydrates that the body does not take in remain undigested and will pass harmlessly out of the body. Regardless of the testimonials you've heard about Decarb being 100% effective, you might be wondering Does Decarb Work for real? Decarb must, of course, be used in conjunction with a proper diet and exercise plan in order for it to have the desired weight loss results. But the answer to the question "Does Decarb Work" can also be answered within the following FAQ's.
Who needs DEcarb?
Any man or woman worried about their intake of carbohydrate, who wants to either achieve or maintain a healthy weight, or who cares about the long-term health implications of excess carbohydrate consumption.
What is DEcarb?
DEcarb is a completely natural and safe product that when combined with a healthy eating regime and exercise, can help people achieve their weight loss goals. The active ingredient is contained in PhaseLite, a GMO-free vegetable source made from white kidney bean which reduces the digestion and absorption of complex, starchy carbohydrates. DEcarb is clinically proven to reduce calories by blocking the absorption of dietary carbohydrates by up to 66 per cent, as well as reducing food cravings.
Is DEcarb safe?
DEcarb is a certified Class 2a medical device product which means that it exerts a physical rather than a biochemical effect on the body. It contains no added artificial colourings, flavourings or preservatives, and has a well established safety profile and no known harmful side effects. DEcarb is not recommended for pregnant or breastfeeding women, children under the age of 12, or for anyone under the age of 18 unless under medical supervision.
Are there any side effects associated with taking DEcarb?
Because DEcarb blocks carbohydrate absorption, an increase in undigested carbohydrates may lead to flatulence (passing of gas) in some individuals during the first few days of consumption. This is not a cause for concern and will reduce as your body adapts.
How do I take DEcarb?
Take 1-2 tablets immediately before each main meal. Increase to 3 tablets if a high carbohydrate meal is eaten. In order to meet the daily requirement for carbohydrates/calories, do not exceed 3 tablets per meal and 6 tablets per day.
Can I take DEcarb if I am pregnant or breast-feeding?
You should not take DEcarb if you are pregnant or breast-feeding or if your Body Mass Index (BMI) is below 18.5.
Can I take DEcarb alongside medication or if I have an existing medical complaint?
If you are on medication or have an existing medical condition or complaint it is recommended that you consult your healthcare professional before taking DEcarb.
Can I use DEcab if I am vegetarian or vegan?
Yes. DEcarb is suitable for both vegetarian and vegan diets.
What is DEcarb made from?
Each tablet contains PhaseLite, a proprietary glycoprotein complex from a Genetically Modified Organism (GMO)-free vegetable source (white kidney bean). Excipients: Microcrystalline cellulose, Fructo-oligosaccharide, Tri-calcium phosphate and Magnesium Sterate.
How is PhaseLite different to other Phaseolamin carb blockers?
PhaseLite, a proprietary glycoprotein complex. PhaseLite is a highly concentrated and standardised glycoprotein complex derived from a GMO-free vegetable source. Ingredients are 100% traceable and go through a standardization extraction process. DEcarb is manufactured to cGMP standards and has ISO 13485 : 2003 certification.
Can I take Decarb instead of doing exercise?
For best effects DEcarb should be used alongside a healthy diet and regular exercise.