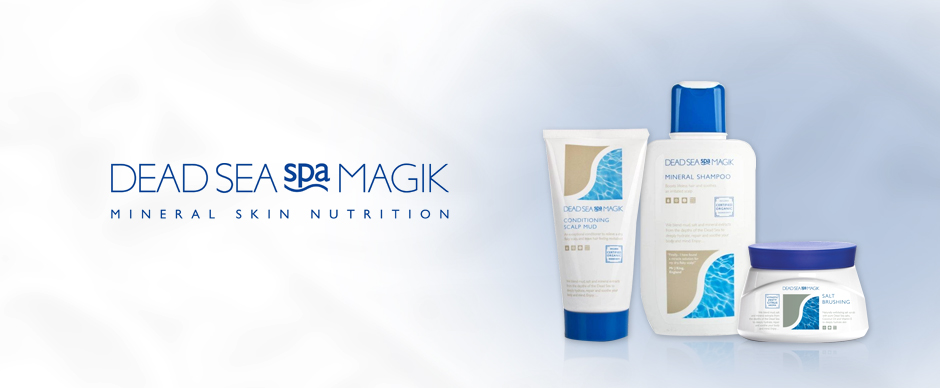 How To Create The Perfect At Home Body Spa - The Dead Sea Spa Magik Way.
It is important to start a body skincare regime to help keep the skin smooth, soft and wrinkle free as we get older. Cleansing, exfoliating, body brushing, moisturising, using body masks and relaxing mineral baths will all help you maintain healthy, glowing skin, making you the envy of all your friends! It is definitely better late than never to look after your skin. There are several steps that Dead Sea Spa Magik feel are important to maintaining a silky soft body, relaxing and having that all important 'me' time in the luxury of your own bathroom.
Relax
Light some scented candles in your bathroom, close the door and dim the lights creating a warm, cosy spa ambience.
Exfoliate
Why? Exfoliating the body regularly is important for a number of reasons. Firstly it removes dead skin cells, leaving you with brighter, smoother skin. Secondly exfoliation increases circulation so is therefore beneficial in reducing signs of cellulite and toning the skin. How Often? Dead Sea Spa Magik would suggest exfoliating the body 2-3 times a week. However if your aim is to reduce cellulite and tone the skin then you may wish to exfoliate problem areas daily. It is also important to exfoliate the body before you go on holiday so new skin is able to enjoy the sun light (with sun protection of course!) and help you achieve a nice long lasting tan.Which Products? Dead Sea Spa Magik has one fantastic all over body exfoliator, which has been voted 'Best Body Scrub' by women's magazine.
Salt Brushing
suitable for all skin types. Unadvisable to use on cracked or cut skin as may sting! What do I do? Standing in a bath or shower, take a handful of salt paste and gently apply to a dry body using circular movements. Rinse with warm water and towel dry.
Bathe
Why? A hot bubble bath or bathing our hands and feet in bowls of warm water is amazingly relaxing and de-stressing! Giving you much needed time to yourself, alone to rest your mind and body. There are a number of products available to help you achieve an even higher state of calm, hydrate the skin and help you sleep.How Often? Bathe as often as you can. Obviously it entirely depends on how often you get the time, but as frequently as possible to ensure the products you add to your bath work their best and to keep you in a calm and relaxed frame of mind.Which Products? Dead Sea Spa Magik have products to help you make the most of bath time… Dead Sea Bath Salt, suitable for all skin types, especially beneficial for dry conditions. Refreshing Bath Shower Gel, great for all skinsWhat Do I Do? Add either or both products under running bath water. The Dead Sea Sales are fantastic a hydrating and soothing dry skin, whilst the Refreshing Bath Shower Gel creates a luxury foam bath. Once your bath is run hop in, shut your eyes and relax for 20-30 minutes. Alternatively you can add either to a bowl of warm water and then place your feet and hands in to let them soak and soften!
Cleanse Body
Why? It is important to cleanse the body to remove traces of dirt, pollution, sweat etc, which if left for periods of time will cause the body to have an unpleasant odour and the skin look dull and grey.How Often? You should wash your body twice daily to keep it silky smooth and smelling divine!Which Products? Dead Sea Spa Magik has a number of products in the range designed specifically to keep your body clean, soft and fresh… Refreshing Bath Shower Gel, great for all skins. Black Mud Soap, recommended for dry or problem skin condition Cleansing Bar, recommended for sensitive, normal to oily and problem skin.What do I do? Whilst lying in the bath or standing in the shower, add a cleanser to a wet flannel or sponge and rub all over the body.
Cleanse Hair
Why? Hair comes in all colours, all lengths and all textures but nothing makes any of us look and feel as amazing as shiny, bouncy healthy looking hair that is full of bounce. But it is not only your hair that benefits from using hair products it is your scalp. Conditions such as itchiness and flaking are relieved. How Often? How often you wash your hair varies from person to person. Some people need or want to wash their hair daily, other may only wash 2 or 3 times a week.What Products? Dead Sea Spa Magik has a hair range designed specifically to give life to your locks and relieve dry, itchy scalps. The products available are as follows. Mineral Shampoo, suitable for a hair types and particularly beneficial for those with a dry, flaky scalp.Conditioning Scalp Mud, great for all heads and great for especially dry scalps.Hair Magic Serum, adds gloss to all hair types and relieves itching of the scalp. What do I do? Hair products need to be applied to clean wet hair whilst in the bath or shower. Hair should be shampooed first before using a serum or scalp mud. However read the directions on the back of each product for details of how each product should be used.
Moisterise
How Often? You need to moisturise your facial twice daily, morning and evening after thoroughly cleansing. Moisturising sun protection creams should be applied before going out into the strong sun rays and re-applied after swimming etc. Which Products? Dead Sea Spa Magik have a number of moisturisers for you to use. Choose from. Silky Smooth Body Lotion, suitable for all skin types, especially dry skin. Skin Softener, fantastic extreme dry, flaky skin conditions such as eczema and psoriasis. Super Hand Cream, great for softening and protecting all hands. Great for all skin types to protect skin from harmful sun rays. What do I do? Apply moisturiser to the palm or your hands and massage over your body or specific problem areas. Let the minerals penetrate your skin and the minerals work their magic. Take 10-15 minutes to sit back and relax in your at home spa, with candles lit, letting all the minerals start working and hydrating your skin and relaxing your mind!