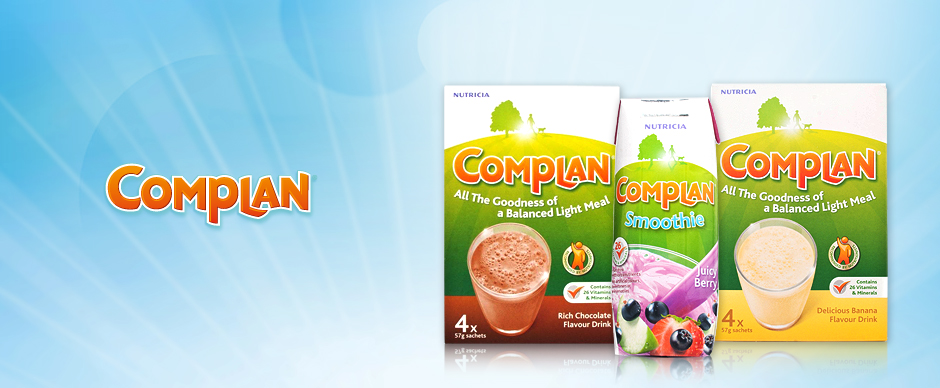 Complan – A Product Overview
Complan is a delicious drink, enjoyed by a wide range of people of different ages for a variety of different reasons.
Complan is a trusted, fortified dietary supplement formulated to provide high quality nutrition. It provides a balanced mix of high-quality, essential protein, fat and carbohydrate to provide energy, as well as an extensive range of vitamins and minerals, and it provides a useful boost to energy even in small servings.
A single serving, when made with water, provides around 250 calories, and when mixed with skimmed milk it provides around 320 calories.
Benefits of Complan
It is specifically designed to provide balanced nourishment.
It provides 24 vitamins and minerals for health and vitality.
It is a rich source of antioxidant vitamins A, C and E.
It contains calcium for healthy, strong bones.
It has iron to help maintain physical stamina, strength and mental alertness.
It provides high-quality protein.
It contains NO artificial colours, preservatives or sweeteners.
It is gluten-free and suitable for vegetarians.
Its balanced goodness contains everything your body needs to recover fast from illness.
Complan is recommended by healthcare professionals.
Complan is available in powder and comes in a variety of delicious flavours:
Original
Chocolate
Strawberry
Vanilla
Banana
Chicken
Vegetable
How to use Complan:
Complan is versatile and delicious and is available in a range of flavours. It provides complete balanced nutrition, since it is fortified with essential vitamins and minerals and supplies useful amounts of energy, even in small servings. Use 1-3 servings of Complan daily as a dietary supplement. It can be used between meals as a supplement or occasionally as a meal replacement when appetite is poor. Dietary supplements are not meant to be the sole source of nutrition, so always seek advice from a doctor or nutritionist if you have a poor appetite or trouble eating. Complan can be made freshly as required. Available in powder format, Complan drinks can be mixed with water or milk - hot or cold - to provide complete nourishment.
Instructions:
1. Quarter fill a large cup or mug with cold or hot (not boiling) water.
2. Add 3-4 dessertspoons of Complan Original or one sachet of the flavoured Complan.
3. Mix to a smooth cream with a whisk or fork.
5. Top up with either cold or hot water, stirring all the time.
Complan contains skimmed milk, so can be made with water. But if it is made up with milk it makes a creamier drink that is also richer in energy, protein, vitamins and minerals.