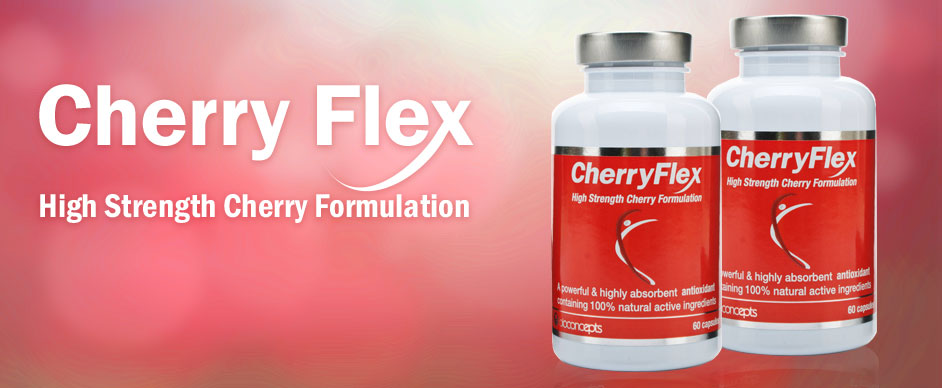 What is CherryFlex™?
CherryFlex™ is a daily supplement that contains a high-strength extract of Montmorency cherry one of the newest super-fruit extracts taking the world by storm. A fruit so rich in antioxidants, it may actually help to improve the quality of your sleep, alleviate joint pain & inflammation caused by conditions such as Gout or Arthritis and may even help to reduce recovery time after training sessions and after partaking in sports.
How does CherryFlex™ work?
CherryFlex™ contains a highly concentrated extract of Montmorency cherries, a fruit that possess such powerful antioxidant properties they are able to help combat the inflammatory response that occurs within the body during a Gout attack. Montmorency cherries are also high in naturally-occurring melatonin. Melatonin is produced by the brain to regulate healthy sleep cycles; hence CherryFlex™ may also improve your sleep patterns.
How do I take CherryFlex™?
For best results follow the recommended dosage in the instruction table on the enclosed leaflet.
What does CherryFlex™ contain?
Montmorency Cherry extract (Prunus Ceranus) 450mg, Biofruit AbsorbmaxTM (Bioperine Sucrase Lipase, Protease, Amylase), Capsule Shell: Vegetable Cellulose 100mg.
Who is CherryFlex™ for?
If you have problems with sleeping at night, or if you suffer with joint pain and inflammation caused by a condition or from frequently playing sports, then CherryFlex™ is right for you. CherryFlex™ is packed full of powerful antioxidants that help the body to regulate its sleep patterns, to help alleviate joint inflammation caused by playing sports or by conditions relating to joints including Arthritis or Gout and helps improve your rate of recovery after training sessions.
How do I take CherryFlex™?
For best results, follow the recommended dosage on the enclosed leaflet.
Can I take CherryFlex™ alongside medication or if I have an existing medical complaint?
It is recommended you consult your healthcare professional before taking CherryFlex™.