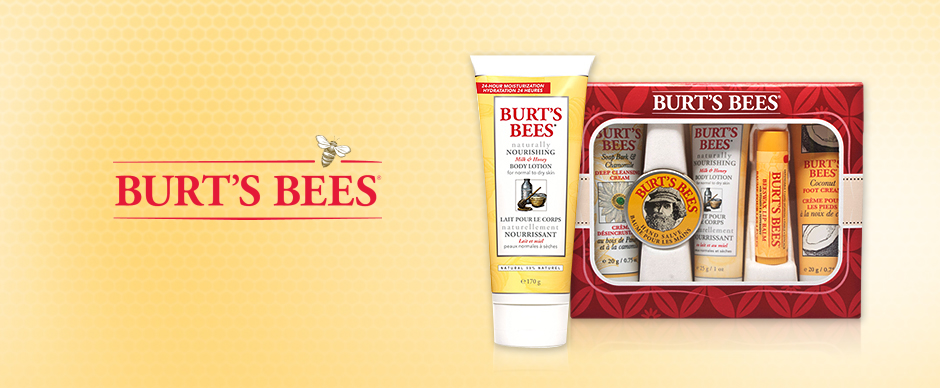 Burts Bees natural ingredients
Burt's Bees guarantee to bring you the very best slices of nature in every single product. Their beautiful, natural ingredients help to nurture and nourish your body from the outside, in to ensure you always feel the best in your skin. Burt's Bees firmly believe that Mother Nature knows best and provides the best for our skin, which is why their favourite natural ingredients like beeswax, cocoa butter, honey and aloe are packed into their amazing products.
Beeswax
This is obviously one of Burt's Bees' favourite ingredients and features in a wide range of their products. It is produced by honeybees as they build up their honeycomb and it can have a soft or brittle texture. As a natural emulsifier it helps to bind lotions and balms. It provides an amazing scent and colour while helping to condition the skin and lock in moisture. In moisturising formulas, it helps to seal the skin to keep it beautifully soft and nourished.
Buttermilk
Another popular ingredient for Burt's Bees lotions is buttermilk, which is used for its natural soothing properties that cleanse and soften the skin. Its natural content of lactic acid helps to gently exfoliate the skin and reduces the appearance of wrinkles because of its ability to stimulate collagen production.
Cocoa butter
Cocoa butter is made from the beans of the cocoa tree and creates a gorgeous, rich formula that is packed with fatty acids and antioxidants. It protects and softens the skin and is excellent for reducing the appearance of fine lines, scars and stretch marks. Its deliciously sweet chocolate smell provides an incredible treat for your skin and your senses!
Pomegranate & cranberry
Pomegranate juice, extract and oil are all retrieved from the seeds of the fruit that are filled to the brim with antioxidants. It is therefore an excellent ingredient for fighting visible signs of ageing and replenishing the skin. This ingredient is usually teamed with cranberry (another antioxidant rich fruit) to create powerful scrubs and body bars that regenerate the skin and leave it smelling amazing.
Coconut
The coconut is one of nature's most versatile ingredients thanks to its high antioxidant and essential vitamin content. Coconut oil itself is incredibly light, non-greasy and works wonders on the skin. That's why you'll find it in Burt's Bees lip balms, lotions and face care products.
Shea butter
Shea butter is obtained from the fruit of the Shea tree. This natural fat is rich in fatty acids and is a gorgeous treat for the skin. It works to improve the elasticity of the skin and can therefore reduce the appearance of wrinkles and leave the skin's texture more refined. It is a popular ingredient for Burt's Bees body butters and lip balms.
Honey
Bees really do provide some real treats for our skin. This delightfully sweet, syrupy substance is rich in antioxidants, amino acids, vitamins and essential minerals that nourish the skin. It attracts and retains water and is therefore used as a natural moisturiser that keeps the skin softened and soothed.
Burt's Bees also contains a range of other indulgent natural ingredients like:
Almond
Aloe
Chamomile
Clary sage
Cotton
Eucalyptus
Jojoba
Lemon
Mango
Orange
Royal jelly
Willow bark