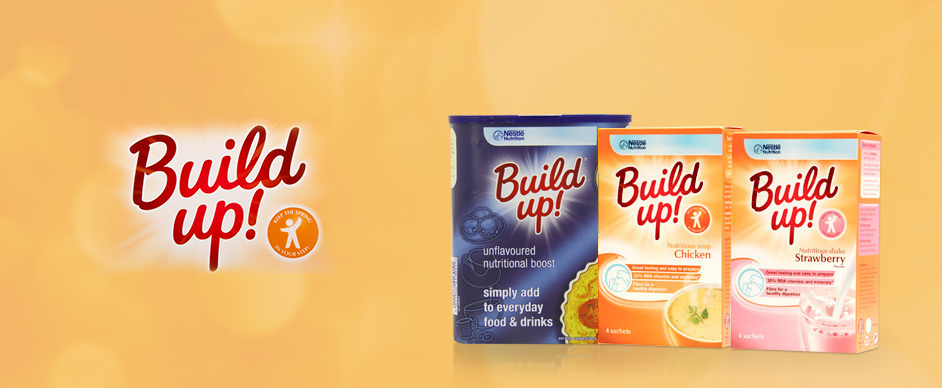 Getting Fit & Staying Active
Staying fit and active is the single most important way you can ensure your body keeps working just as it should do. While supplements like Build-up can give you a real boost, its important you enjoy them as part of a healthy active lifestyle to make sure you keep getting the best results, day in day out.
Keep Fit
Physical activity needn't mean pounding the treadmill or flailing about in a gym class with loud music and shouty instructors. With just a little bit of thought you'll be able to incorporate moderate exercise into your day. With so little fuss and inconvenience you'll barely notice you're working out at all – until you start to feel the difference that is!
Top Tips For No Fuss Fitness
Try to use the stairs rather than the lift
Find activities that are convenient and enjoyable – you are more likely to keep them up
Exercise with a friend – you can encourage and motivate each other
Get up 15 minutes early and go for a brisk walk before breakfast
Invest in a pedometer and see whether you are clocking up a healthy 10,000 steps a day
A Healthy, Balanced Diet
Follow these few simple rules to help make sure you get a varied, healthy and balanced diet.
Try to eat at least 5 portions of fruit and vegetables every day
Base your meals on starchy foods, such as bread, pasta and potatoes. Choose wholegrain varieties where possible
Cut down on saturated fats and replace them with monounsaturated or polyunsaturated fats
Try to eat two portions of fish each week, including one portion of oily fish
Drink alcohol in moderation (men can drink up to 3-4 units per day, women can drink up to 2-3 units per day)
Enjoy Byild Up As Part Of Your New Healthy Diet
Our delicious soups and shakes provide at least 30% of your RDA* of 11 vitamins and five minerals, including:
Protein, Vitamin D and Calcium for strong, healthy bones
Vitamin C, Zinc and Folic Acid to help maintain a healthy immune system
Iron and Zinc to help maintain cognitive function
Thiamin and Magnesium to help maintain normal heart function
Fibre for a healthy digestion