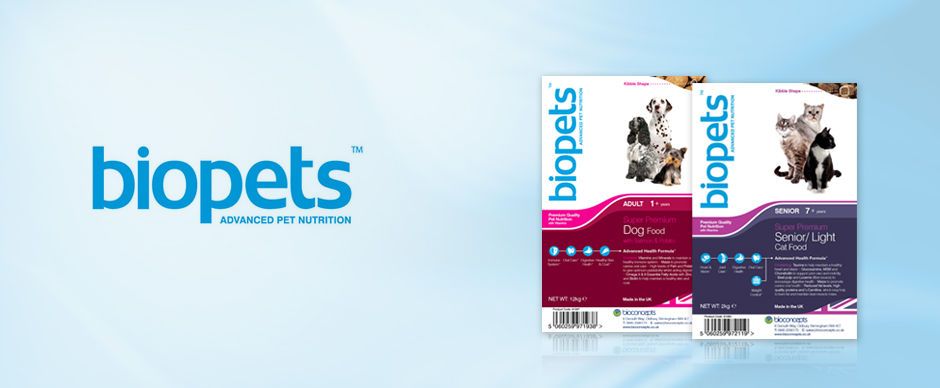 The science behind the secret...
As your pet dog or cat grows he will need a diet that will suit each stage of development and provide him with the nutrition required for heart health, proper vision, good digestion, oral health, and joint health. Your pet deserves to have a source of nutrition that contains all the necessary proteins, vitamins, minerals, and amino acids. Biopets provides your pet dog and cat with a wealth of healthy pet food that is rich in nutrients and appealing to taste.
Size specific
Each dog and cat, big or small, young or old, has different dietary needs. Larger breeds of dogs and cats usually require food that has fewer calories than food for smaller breeds. Large breed dogs and cats are also more prone to orthopaedic problems later in life and will need extra nutritional joint support throughout their life to protect them from brittle bones. Additionally, it is important that your dog's food is the right kibble size to match his jaw size, and that the consistency of your cat's food is easy to eat and digest based on their breed and age.
For these reasons and more Biopets provides you with size specific food that can be used for dogs from 2.5 kg to 25 kg and size specific food that can be used for cats from 400g to 7.5 kg. This food range contains vital nutrients and minerals needed to suit the metabolic needs of your pets breed size and weight.
Matches lifestyle needs
Depending on their lifestyle, dogs and cats have different nutritional needs. A working dog or cat that spends most its time outdoors may need a diet that has more calories to give him energy throughout the day then a pet who spends most its time indoors. Biopets provides advanced formulations for both working/outdoor and house pets. It provides them with an appropriate balance of proteins, carbs, and vitamins to suit their daily lifestyle.
Suits age-related dietary needs
One food doesn't suit pets of every age! Dogs and cats needs a range of food that will suits their needs from the time they are young to later mature years. When your pets are young they need a diet that will provide them with the energy to grow, and when mature they need a diet that will provide them with extra bone strength and digestive support.
For optimum health, professional cat and dog trainers suggest feeding your pet food that is specific to his/her age. Age specific food from Biopets for young dogs and cats will see to it that your pup and kitty has the energy to romp around, play and grow strong and healthy. Biopets food for mature dogs and cats will ensure that your dog and cats has sufficient nutrients and vitamins to protect him/her from orthopaedic problems and indigestion.