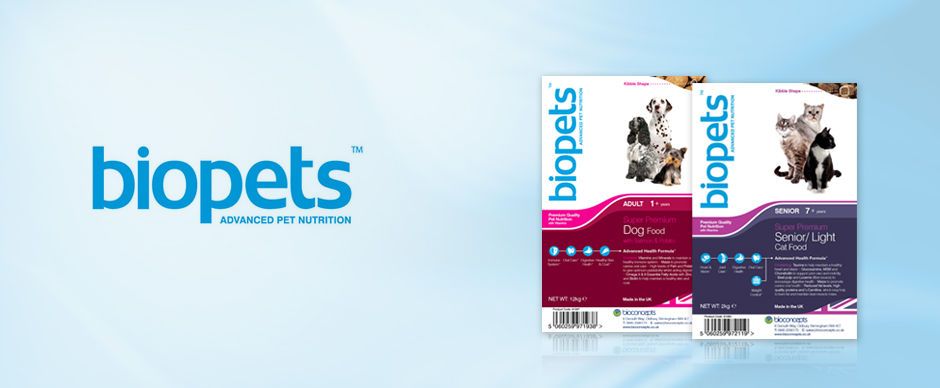 How Biopets Outperfoms the Competition
Biopets contains:
Poultry meal, Maize, Rice, Oats, Poultry Fat, Fish Meal, Sugar Beet Pulp, Egg Powder, Salmon Oil, Chicken Hydrolysate, Minerals, Linseeds, Brewer's Yeast, Pork Hydrolysate, Vitamins, DL-Methionine,L-Carnitine, Yucca Schidigera Extract, Glucosamine, Methylsulfonylmethane, Chondroitin Sulphate, Mannan-oligosaccharides and fructo-oligosaccharides.
Competitor's cat & dog food contains:
Highly digestible proteins, prebiotics (fructo-oligo-saccharides & mannan-oligo-saccharides), sugar beet pulp, rice and fish oil.
Biopets contains vitamins and minerals like Vitamin A, vitamin D3, zinc, zinc sulphate monohydrate, ferrous sulphate monohydrate, ferrous chelate of amino acids hydrate, manganous sulphate monohydrate, cupric chelate of amino acids hydrate, cupric sulphate pentahydrate, calcium, sodium and selenite.
Vitamins within leading brands
Mannan-oglio-saccharides (MOS) with synergistic antioxidant complex including high contents of vitamins E and C, taurine, and lutein.
Biopets benefits
Provides age, size, and breed related nutrition
Healthy formulation with all the vitamins, minerals, fibre, fatty acids, and prebiotics needed for optimal growth and health
Highly palatable
Aids in good digestion
Promotes skin and coat health
Encourages better eyesight and night vision
Protein-rich diet to meet the high energy demands of cats
Rich source of dietary fibre to encourage healthy weight
Strengthens bones and helps prevent bone and joint disorders later in life
Benefits of other leading brands
Provides age, size, and breed related nutrition
Highly palatable
Nutritional support during growth