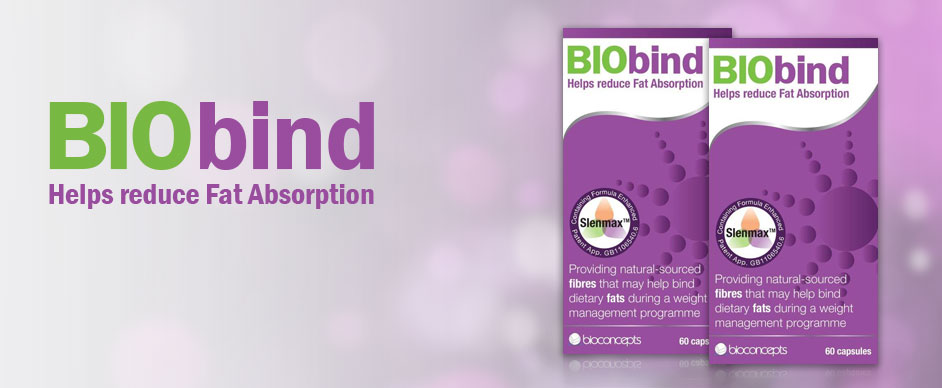 "I use BioBIND, a natural fat binder, to keep my weight in check"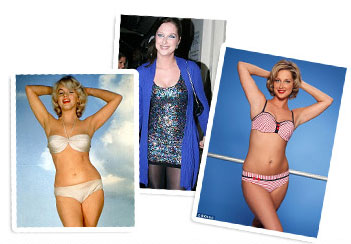 In the article Gemma said she decided she wanted to lose the weight a healthy and sensible way. She added: 'I refuse to adopt the usual celeb fad diet and gruelling exercise regimes, so I decided I would lose the weight by making small and healthy lifestyle changes."
In addition to sticking to a diet and exercise regime, Gemma has been using BioBIND to help her on her weight loss journey - a natural diet supplement which claims to reduce calorie intake. Gemma said: 'I refuse to compromise on high fat food such as mayonnaise as I can't stand the lighter versions so when I'm particularly busy and I can't make it to the gym, I use BioBIND, a natural fat binder, to keep my weight in check. 'It means I don't have to deny myself and my diet works around me.'

"After taking BioBIND for a couple of months and staying on top of my diet and exercise, I soon slimmed down to a size 8"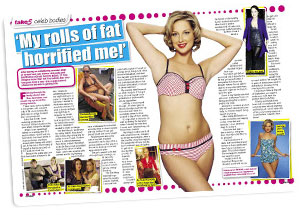 In the article Gemma Bissix commented "I couldn't always get my hands on the healthy foods I wanted and would often have to grab a sandwich full of carbs and fat. It was really frustrating, but then I heard about a product called BioBIND and decided I'd give that a go. You take it just before your meal and it absorbs the fat that you've just eaten. It was perfect for me as my lifestyle means I'm not able to stick to a very strict diet every day and I might be too busy to go to the gym. Some of my friends take diet pills and I really wasn't keen on taking anything that could be bad for my body. BioBIND is a natural product, which doesn't absorb into your body, so I knew I wasn't doing myself any harm. After taking BioBIND for a couple of months and staying on top of my diet and exercise, I soon slimmed down to a size 8."

"BioBIND stops you absorbing a third of your intake of fat"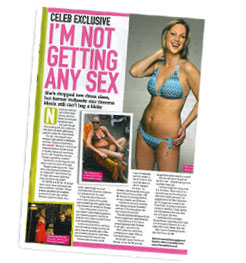 In the article Gemma Bissix said: "At 10st 6lbs and 5ft 6in, I'd always been curvy, never exercised, and ate whatever I wanted."......"I started to eat more sensibly, having cereal for breakfast and lots of fruit throughout the day instead of junk food". She also started taking a natural herbal supplement called BioBIND. "It stops you absorbing a third of your intake of fat, so I decided to give it a go." Amazingly, seven months on, the star is now 9st 3lbs and has dropped two dress sizes to a size 8.

"Gemma Bissix Unveils Her New Body"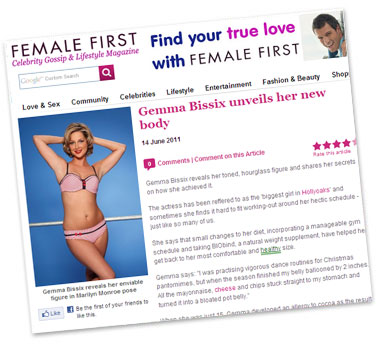 Gemma Bissix reveals her toned, hourglass figure and shares her secrets on how she achieved it.
The actress has been reffered to as the 'biggest girl in hollyoaks' and sometimes she finds it hard to fit working-out around her hectic schedule just like so many of us.
She says that small changes to her diet incorporating a manageable gym schedule and taking BioBIND, a natural weight supplement, have helped her get back to her most comfortable and healthy size.
Gemma says: "I was practising vigorous dance routines for christmas pantomimes, but when the season finished my belly ballooned by 2 inches. All the mayonnaise, cheese and chips stuck straight to my stomach and turned it into a bloated pot belly." she continues.
Gemma says the best way to avoid fatty food when on the go is to prepare them before-hand using Tupperware to store everything that you can from fruit to yoghurt. This way you can never use the old age phrase. "I didn't have the time"

"I've Lost A Stone & Still Eat Fish & Chips" - Gemma Bissix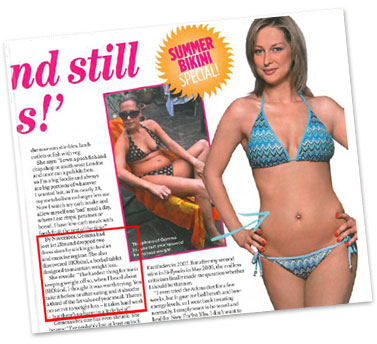 By November, Gemma had lost 1st 2lbs and dropped two dress sizes by sticking to her diet and exercise regime. She also discovered BioBIND, a herbal tablet designed to maintain weight loss.
She reveals:"The hardest thing for me is keeping weight off so, when I heard about BioBIND, I thought it was worth trying. You take it before or after eating and it absorbs a third of the fat value of your meal. There's no secret to weight loss - it takes hard work - but there's no harm in a little help!"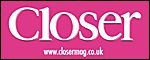 "Celb Diet Secrets"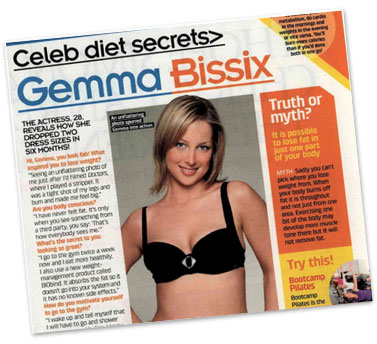 The actress, 28, Reveals how she dropped two dress sizes in six months!
Hi, Gemma, you look fab! What inspired you to lose weight?
"Seeing an unflattering photo of me just after I'd filmed Doctors, where I played a stripper. It was a tight shot of my legs and bum and made me feel big."
Are you body conscious?
"I have never felt fat. It's only when you see something from a third party, you say: That's how everybody sees me."
What's the secret to you looking so great?
"I go to the gym twice a week now and I eat more healthily. I also use a new weight management product called BioBIND. It absorbs the fat so it doesn't go into your system and it has no known side effects."
How do you motivate yourself to go to the gym?
"I wake up and tell myself that I will have to go and shower in the gym, and before I know it I've had my hour workout and I am having my shower."
Are you more confident now?
"I wouldn't say that when I was bigger I wasn't confident but now I feel confident that I can wear anything."
What size are you?
"Size 8 to 10, with the boobs."
What part of your body is your favourite?
"My stomach. It's flat and it doesn't roll when I sit down."
What's your worst?
"Probably my bum still."
Gemma has discovered BioBIND, a new weight management product that helps control the fat in your diet naturally.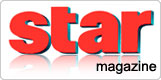 "My Bikini Body Diet Secrets"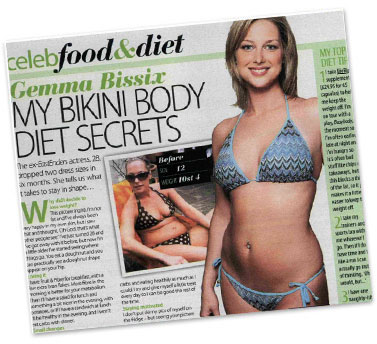 Celeb Food & Diet
My Top 3 Diet Tips:
1. I take BioBIND supplements to help me keep the weight off. I'm on tour with a play, Busybody, at the moment so I'm often eating late at night and I'm hungry so it's often bad stuff like chips or takeaways, but this blocks a third of the fat, so it just makes it a little easier to keep the weight off.
2. I take my trainers and sports bra with me wherever I go. Then if I do have time and feel like a run I can actually go instead of thinking, 'Oh, I would, but...'
3. I have one naughty-ish meal a day - not fish and chips, that would make me a whale.