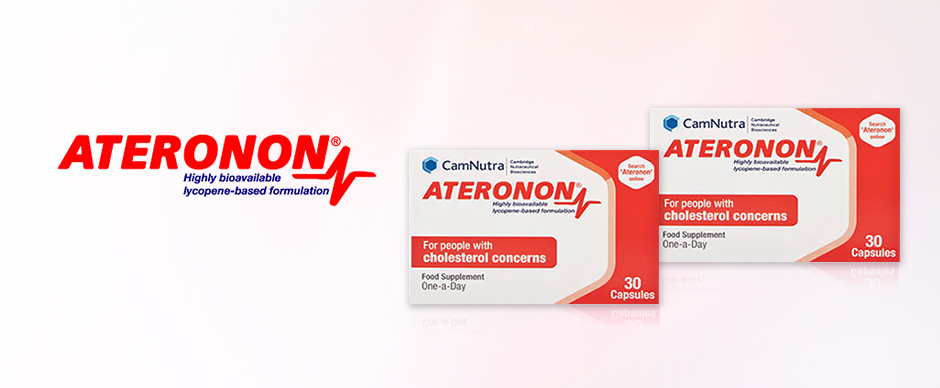 Whether you're here because a friend referred you to Ateronon, you know the goodness or Lycopene, or you merely stumbled on this page while on a "health supplements" search, you've come to right place to find out why Ateronon will boost your health.
What is Ateronon?
Ateronon is a one-a-day health supplement that provides your body with a natural source of lycopene. Each capsule contains the equivalent lycopene content of 1 kg (2.2lb) of tomatoes. It contains 7mg of lycopene in a patented formulation of lycopene, LactoLycopene™, which is proven to be more easily absorbed by the body.
Ateronon facts
It is the only supplement to contain LactoLycopene in a bioavailable form
Easily absorbable lycopene formulation
Proven to increase lycopene levels in the blood
Clinically tested at Cambridge University and Boston
Has been featured in natural press and broadcast media
2.2lb. of natural tomato goodness in every capsule
How often should I take Ateronon?
Ateronon should be taken one capsule per day to maintain and build up the level of lycopene in the blood. Clinical tests prove that taking one Ateronon capsule per day increases the level of lycopene in the blood.
Take the capsule daily after a meal at approximately the same time each day and stick to the routine. The lycopene levels in your body will drop should you suddenly stop.
Health benefits
Lycopene, studied by scientists for many years, improves the blood flow in arterial vessels. A recent Finnish study has observed that individuals with higher levels of lycopene in their blood are 50% less likely to suffer stroke.
In its natural form, lycopene has a large crystalline structure that cannot be easily absorbed by the body. For this reason, the lycopene in each Ateronon capsule is the most bioavailable source for the body to use. Ateronon's patented formulation reduces the size of lycopene crystals to a structure that can be easily absorbed by the body and promote cardiac health. Cambridge University studies of Ateronon showed that the lycopene levels of volunteers rose between 60% and 100% within two months as a result of taking the capsule daily.