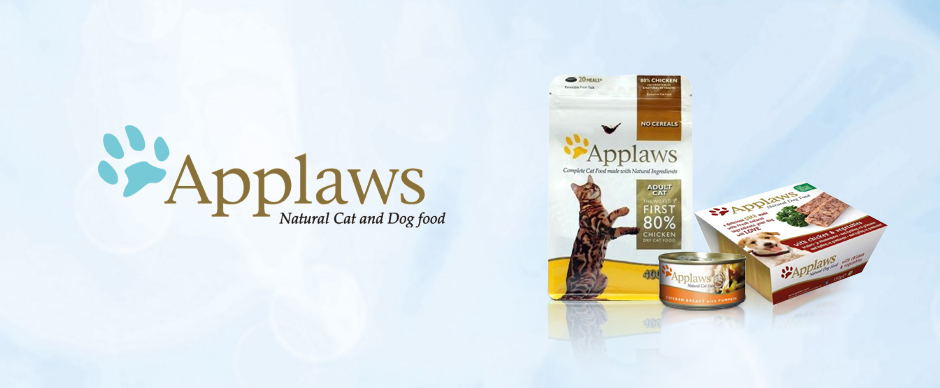 Benefits of Applaws pet food
Applaws promises to only include ingredients that will offer real health benefits to your pet. Each and every one of their pet foods is 100% natural and they take pride in their delicious and nutritious recipes. They will only use the highest quality ingredients and will never hide anything from their ingredients list because they are confident in the food they provide. They won't settle for anything but the best, which is why they don't use animal derivatives, fillers, sweeteners, flavourings or unnecessary additives.
Their complete dry foods for cats and for dogs contains 75% meat content alongside 25% of fresh fruits, vegetables and herbs in order to mirror a completely natural diet. Applaws believe that you should only provide your pet with nature's best possible ingredients to ensure they are feeling great on the inside and looking great on the outside!
Their tinned foods for cats and dogs can also be fed daily as a complementary food to complete a healthy and nutritious diet that is filled with a great taste that your pet will love. Naturally high in taurine and arginine and only using the highest quality cuts of chicken or fish, Applaws ensures nothing but the best to take care of your pet.
Popular ingredients found in Applaws pet food:
Chicken
Salmon
Tuna
Rice
Pumpkin
Potatoes
Carrots
Tomatoes
Green peas
All of these delicious ingredients ensure an optimum level of vitamins and minerals that provide a wealth of health benefits for your dog and will keep them in excellent condition from top to tail. All ingredients are highly digestible and gentle on the stomach and Applaws avoids any ingredients that are known to cause allergies or sensitivity.
Applaws also contains:
Active pro-biotic - encouraging the presence of friendly bacteria in the gut in order to support healthy digestion.
Beta-Glucan - helps to improve the immune system.
Cranberry extract - helps to fight cellular ageing, maintains healthy skin, promotes a shiny coat, supports immunity and maintains a healthy urinary tract.
Natural glucosamine and chondroitin - found in Applaws senior, these ingredients help to maintain healthy movement and mobility.
EPA & DHA - both essential nutrients, they help with the functioning of the brain and nervous system. They are both mainly found in puppy formulas to help support early development, particularly with eyes and vision.
Rosemary oil extract - used to help keep food fresher for longer and is beneficial to your pet's immune system by shielding from free radical damage.
Salmon oil - as a great source of omega 3 and 6, salmon oil provides essential fatty acids that promote healthy skin and a shiny coat.