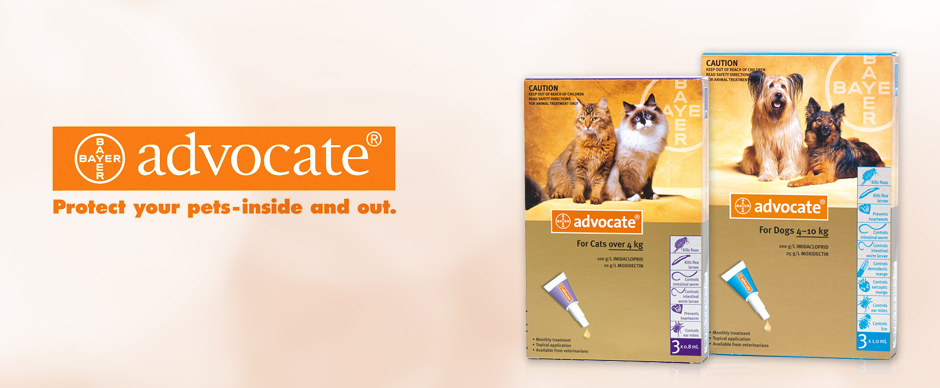 Advocate is a treatment dedicated to preventing and treating both internal and external parasite infections.

Each treatment kills fleas, hookworms, roundworms, heartworm and otodectes ear mites. It must be administered once every four weeks to treat and protect against the painful parasites that can plague your pet.

It is available in specific sizes for small, medium and large cats, each of whom require different doses of the product, and comes packaged within pipettes, which you simply remove the lid from and apply directly.

Why Advocate?

As Advocate is a topical treatment, [as opposed to a pill or an injection] it means that it is an easy way to protect your pet with no need for repeated trips to the vet. The problem of potential allergy is eliminated and your cat will not have to be coerced into receiving the treatment. Advocate is an effective treatment which delivers efficient results, and, when administered monthly, will keep your cat parasite free and happy.
FAQ's
Does it matter if my cat eats Advocate?
Advocate has a bitter taste, which means that it may cause salivating if consumed. It is best to apply Advocate at the back of your cat's neck to minimise the risk of ingestion.
At what age should I start treating my cat with Advocate?
Advocate can be used on kittens over 9 weeks of age, so long as they weigh over 1kg.
Are there any instances in which I should not apply Advocate?
Advocate should not be administered to sick or poorly cats.
How should I apply Advocate?
Remove one pipette from the box. Hold upright and remove the cap and the seal. Part the skin on the back of your cat's neck to reveal the skin. Place the pipette's tip onto your cat's skin and squeeze several times until it's entire contents have been distributed.