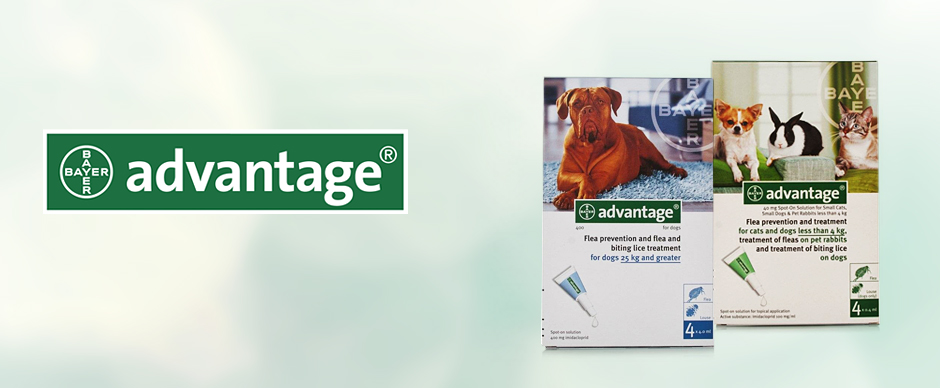 Advantage: A New Opportunity Advantage
Spot-On has been available as a POM -V medication in the UK since 1997. This classification has now changed to NFA-VPS, meaning that Advantage can be sold by SQP's, without the need for a prescription. Containing imidacloprid, Advantage offers genuine choice to the fipronil based NFA-VPS products currently on the market.
Flea Prevention and Treatment
Advantage is a flea treatment that will help prevent your clients' pets, and their homes, becoming infested with fleas through its ability to prevent and treat flea infestations. Advantage also has an environmental larvicidal effect which helps control the flea lifecycle in the pet's surroundings wherever the treated pet goes.
For Cats, Dogs and Rabbits too
Advantage is licensed for use on cats, dogs and rabbits. In 2010 there were a reported 1 million pet rabbits in the UK.* Advantage represents an opportunity to grow flea product usage into this segment.
Puppies and Kittens
When you treat a nursing bitch or queen with Advantage, the whole litter acquires protection against fleas. Advantage can be used on puppies and kittens from 8 weeks of age, and young rabbits from the age of 10 weeks.
The Larvicidal Effect
The fleas you see on an infested animal are only the tip of the iceberg. To bring an existing flea problem under control you must deal with the flea larvae that are lurking all around the house, in carpets, floorings, upholstery and bedding. Advantage helps to address this problem as it kills flea larvae in the home wherever the treated pet has been through its larvicidal environmental activity. Recent market research with Pet Owners has shown the larvicidal effect associated with Advantage to be a feature they value highly when looking for a flea product.